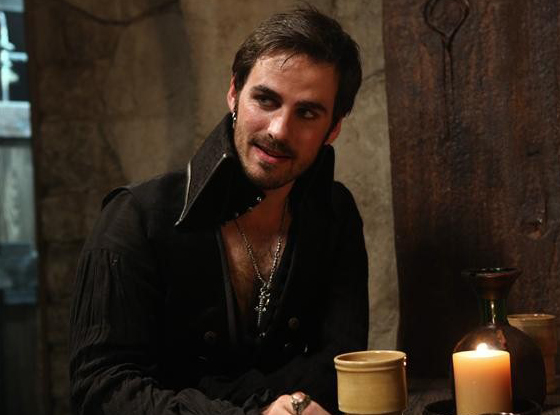 ABC/JACK ROWAND
Is Once Upon a Time finally heading to Neverland?!
In today's Spoiler Chat, we've got scoop on when fans of the ABC fantasy hit can expect to see Peter Pan (if ever!). Also on tap? Juicy spoilers from Revolution's return on March 25, the season four premiere of Pretty Little Liars, a look into the past on Scandal and more!
Plus, we've got dish on Happy Endings, Hart of Dixie and more!
CableTV: Any New Girl spoilers?
You know how we exclusively reported that Dermot Mulroney will be returning in an upcoming episode? Well, in the same episode, someone is arrested. Are those two things related? We'll never tell!
Dana: In desperate need of PLL scoop!
We can tell you that the season four premiere will be titled (drumroll please!) "'A' is for A-l-i-v-e." Take from that what you will. In the episode, we'll meet Marion, Toby's mother.
Dahlia: Once Upon a Time scoop please!
While the only answer Colin O'Donoghue would give us when we asked if he's filmed any scenes in Neverland yet was a coy smile and a nervous deflection, the show's creators Adam Horowitz and Eddy Kitsis revealed  that the two-part season two finale episode titles are "Second Star to the Right" and "And Straight On 'Til Morning." Hmmm...
ChuckGamble1968: I'm waiting on the return of Revolution. What can I expect in the first episode back?
Answers! "We reveal why the power went out and we do it early," creator Eric Kripke teases. He also adds that "the fights get bigger, the emotion gets more fraught." Is it March 25 yet?
Ashley: Hart of Dixie broke my heart last week! Any scoop on what's next for Zoe?
Zoe is heading back to New York! Yes, episode 22 will find our heartbroken doc heading back to her old stomping grounds, but don't worry, it's not a one-way trip as she's traveling back for a wedding. On the flight, however, she will have a very chatty seatmate who will provide Zoe with some advice on her love life, which includes major updates on both the Wade and George front.
Tweetydreamer20: Scandal, please!
In an upcoming episode, Fitz and Mellie will be interviewed by a Barbara Walters-type, who gets the couple to talk a bit about their relationship in law school, where the two often went head-to-head.
Kevin: You guys never have any scoop on Franklin & Bash, which is one of my favorite shows.
Rectifying the situation in 3...2...1: Peter's mom is coming back! Yes, Jane Seymour will return as Colleen Bash, but it's not exactly a great situation as she is being put on trial for prostitution. Nope, we're not joking, but there is more to the story.
Michael: Anything new to share about Happy Endings? I miss it so!
As do we, as do we! We can tell you that Brad's jealous side will rear its ugly head when the third Kerkovich sister (played by Stephanie March) bring home her fiancé. Make that her black fiancé Elliot, whom the family seems to like a lot more than Brad. In the same episode, two of our favorite characters are in need of a new place to live. Take from that what you will…
—Additional reporting by Tierney Bricker

Want your TV questions answered in our next Spoiler Chat? Email them to tvdiva@eonline.com or tweet at @KristinDSantos!