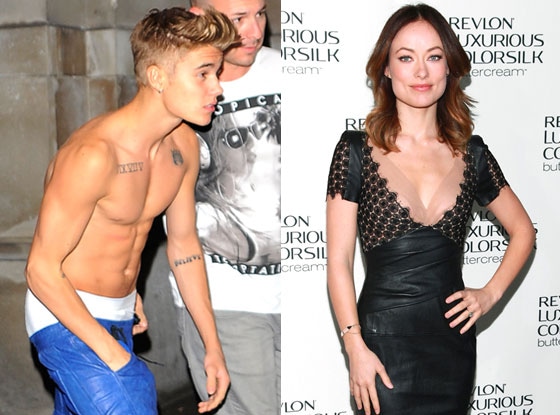 Hewitt/Splash News, Taylor Hill/Getty Images
Olivia Wilde needed to get something off her chest when it came to Justin Bieber's ubiquitous bare chest. 
Jason Sudeikis' fiancée threw some shade at the "Boyfriend" crooner—who's still apparently miffed over his "worst birthday" ever—for shamelessly doffing his shirt and parading his bare pecs for all of England, and the world, to see.
The 28-year-old People Like Us actress took to Twitter to offer Bieber a clear piece of her mind, and she didn't mince any words.
"Bieber, put your f--king shirt on. (unless you lost all your shirts in a fire in which case my condolences and please purchase a new shirt)," she tweeted Friday.
The shirtless crooner had been strutting around town following a concert in Birmingham, England, late last week. But a day later, everything went downhill after the star's 19-year-old birthday bash at London's Cirque du Soir club ended in a confrontation between his entourage and the club's security, forcing the singer and his crew to leave.
"Worst birthday," the star tweeted Friday night, apparently referring to an incident in which the club's bouncers refused entry to several members of his entourage who looked underage.
Bieber later took to Instagram to slam the club for his botched birthday bash.
"The funny moment when people believe I brought underage people to a club," he wrote, adding, "i said m 'worst bday' but that was due to dummies pushing over my fans and being overly aggressive. Btw it wasn't the worst bday cuz all my friends from back home flew in I was just mad in the moment."
Well, that's the nice thing about birthdays: There's always another one next year.