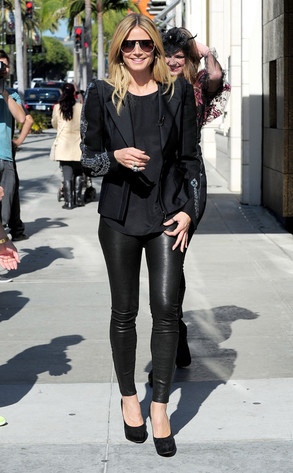 Raef-Ramirez/AKM-GSI
UPDATE March 4, 2013: NBC officially confirms that Heidi Klum will be the fourth judge on the upcoming season of its hit reality competition series America's Got Talent.
"America's Got some serious Talent! I'm really excited to join the panel of AGT to see it all—from the ridiculous to the fantastic!" said Klum in a statement. "I love the surprise element of the show and not knowing what we'll see next and who will wow us. I'm also looking forward to spending time with my fellow judges—Howard Stern, Howie Mandel and Mel B!"
________
Could Heidi Klum be America's Got Talent's latest judge?
It certainly looks like it!
The former Victoria's Secret supermodel was spotted on the set of the NBC reality show in New Orleans Sunday, amid speculation she signed on to fill the program's fourth judge's chair, a source tells E! News. Klum is being referred to as "the new judge" on the set and everything points to it being official, our source went on to say, adding that it seems like she is excited to be on AGT and get going.