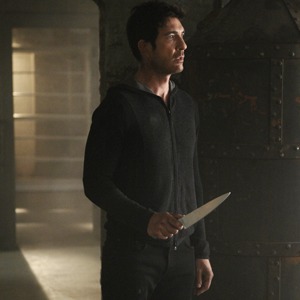 Ray Mickshaw / FX
American Horror Story fans have been speculating and dissecting Ryan Murphy's clues about where season three will take place and what plot device would be at the forefront. Well, fear not because AHS alum Dylan McDermott is here to point us in the right direction!
Last night at the PaleyFest event honoring Ryan Murphy, we asked McDermott about Kathy Bates (who is reportedly joining season three) and how perfect she is for the show, and here is what he had to say:
"She really is. All the witches of Salem…there's plenty of them!"
Watch our exclusive interview below to hear it from McDermott himself.
Watch:
"American Horror Story" Deets
A lot of clues from Ryan Murphy pointed toward the Salem Witch trials as the focus of season three, and it looks like he and Brad Falchuck could definitely be using Bates, Jessica Lange and Lily Rabe to cast spells on the viewers.
Speaking of Rabe, we also asked her what she'll be doing when she returns for season three and she only has one request for her character.
"I want to do something different, whatever that means. And I know that's what will happen, because that is such a part of the project of the show," she tells us. "And Ryan I think was so successful with those of us that he brought back, giving us such incredible things to do. I'm really excited to go back."
As for McDermott, he told us he isn't sure if he's returning for season three because he's working on a pilot right now, but he did say he could "juggle both."
What do you guys think of the Salem Witch Trials setting for AHS' season three? How perfect would Rabe, Lange and Bates be as a trio of havoc-wreaking witches?
—Reporting by Marc Malkin