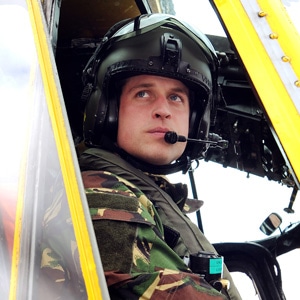 JOHN STILLWELL/AFP/Getty Images
He may not have come riding in on a white horse, but this prince still came to the rescue, albeit on a different steed altogether. 
On Tuesday, Prince William swooped in to help save a pair of hikers via helicopter after the two were reported missing earlier this week while trekking the mountainous north Wales region of Snowdonia. 
Per British media reports, the unidentified hikers, who were in their 40s and 50s, made their way to the area's Glyder range but were forced to camp out there on Monday—where freezing temperatures could prove life-threatening—after lacking the necessary gear to get them off the mountain before nightfall.
The two had promised to phone a friend with an update during their trip, but when the call never came, authorities were alerted and a search party was dispatched.
The pair were eventually found by a mountain rescue team aided by rescue dogs, and William—who just happened to be the royal behind the controls that day—and his helicopter crew arrived to take them to safety.
Consider it yet another heroic feather in the royal's increasingly be-feathered cap: Kate Middleton's hubby, who is a trained pilot with the RAF Search and Rescue Force, has been putting those chopper skills to essential use. Over the last six months, he's participated no fewer than four rescue missions, including saving shipwrecked Russians in the Irish Sea and schoolgirls stranded off the Welsh coast.
Looks like this is one prince whose duties to his people transcend mere ceremonial pomp and pageantry.
A source close to the lost hikers later told E! News that William was incredibly nice to the pair, assuring them that they did the right thing by calling for help and that getting stranded could happen to anyone.
Apparently, they couldn't get a phone signal to make the promised call to their friend and were forced to camp out overnight after it started snowing and the wind kicked up during their walk.
—Additional reporting by Emily Shapiro