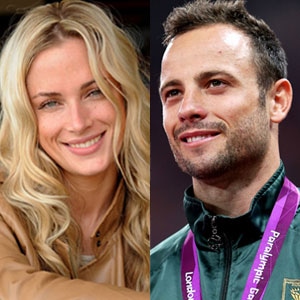 Mike Holmes/The Herald/Gallo Images/Getty Images, Michael Steele/Getty Images
Oscar Pistorius has planned a memorial service for Reeva Steenkamp.
The track runner, charged with premeditated murder for the Valentine's Day death of his girlfriend, will reportedly hold the service at his uncle's home in Pretoria, South Africa, on Tuesday evening. Pistorius has been been staying with his uncle since being released on bail on Feb. 22.
"Oscar specifically requested the memorial service as he continues to grieve and remains in deep mourning for the loss of his partner Reeva," reads a statement released by Pistorius' rep. "Since it is such a sensitive issue, Oscar has asked for a private service with people who share his loss, including his family members who knew and loved Reeva as one of their own."
The memorial service comes exactly one week after the 29-year-old Steenkamp was laid to rest. Friends and family members gathered together on Feb. 19 in Port Elizabeth, South Africa, to say goodbye to the late model.
"There's a space missing inside all the people that she knew," Reeva's brother, Adam Steenkamp, told the press at the time. "Everyone is sad understandably, but at certain points we were smiling whilst remembering Reeva because we only have good memories of her."
Three days later, a judge granted Pistorius bail and released him from custody, stating there was no evidence the Olympic athlete was a flight risk as he awaits trial.