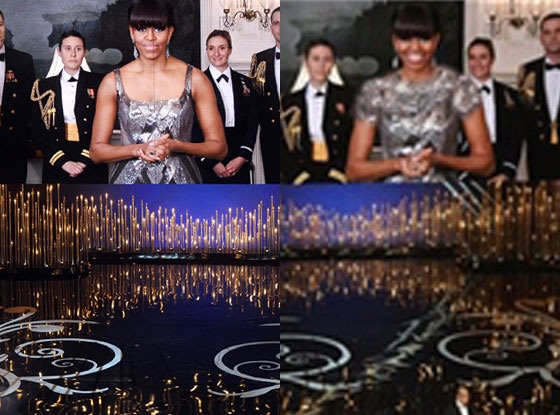 Kevin Winter/Getty Images, FARS
At Sunday night's Oscars, Michelle Obama presented the award for Best Picture. But a photo that an Iranian news agency released of the first lady's appearance seemed to be aiming for an award all its own: best visual effects.
In the image, Obama's dress was photoshopped in an apparent attempt to render it more modest and acceptable to local audiences.
Obama originally wore a stunning sleeveless pewter gown by Naeem Khan when she presented the night's top award in a surprise televised appearance from the White House.
But in the sartorial switcheroo, Iran's Fars News added sleeves and raised the dress' low neckline, changes that seemingly hewed more closely to local broadcast guidelines, which reportedly require women to cover their arms, legs and hair when appearing on Iranian state television.
The switch-up didn't surprise U.S. officials, who pointed out that it's not uncommon for Iranian media to alter images to suit their sensibilities.
"We've persistently seen Iranian news agencies, whether they're partially or fully state-run, use fabrication and use other means to distort images," deputy State Department spokesman Patrick Ventrell told ABC News.
Earlier, Fars News had taken issue with the first's lady's appearance on the show, saying in a statement, "In a rare occasion in Oscar history, the first lady announced the winner for Best Picture for the anti-Iran film, Argo, which is produced by the Zionist company Warner Bros."
It wasn't the only Iranian news outlet to blast the awards: Local website Asriran News had a bone to pick with Argo's win, writing, "Argo is a movie against Iran and it seems that [the deputy for cinema in Iran's Ministry of Islamic Culture and Guidance] Javad Shamghadri was not able to use his lobby to prevent an anti-Iran movie from winning."
Despite the controversy, the night's real winner seemed to have been the show itself: Viewership for the 2013 telecast rose to 40.3 million from 39.3 million the previous year, making it the most-watched Oscar show since 2010.