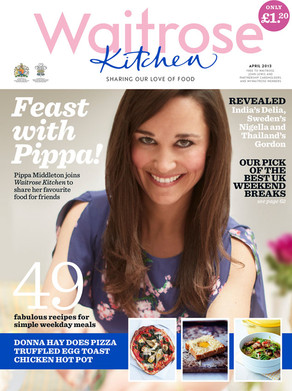 Waitrose Kitchen magazine
Pippa Middleton's got a new gig!
Kate Middleton's kid sister has signed on as a columnist for a British supermarket's monthly magazine, Waitrose Kitchen. According to a press release on Monday, the 29-year-old brunette's first column will appear in the April issue and will feature casual dining ideas and recipes.
"I'm delighted to be writing for Waitrose Kitchen, a magazine that's always been a source of inspiration to me for its extensive spectrum of food and beautiful style," she said in a statement. "My column, 'Pippa's Friday Night Feasts,' will be an exciting opportunity to share my own passion and enthusiasm for food and entertaining, and I can't wait to get started.'"