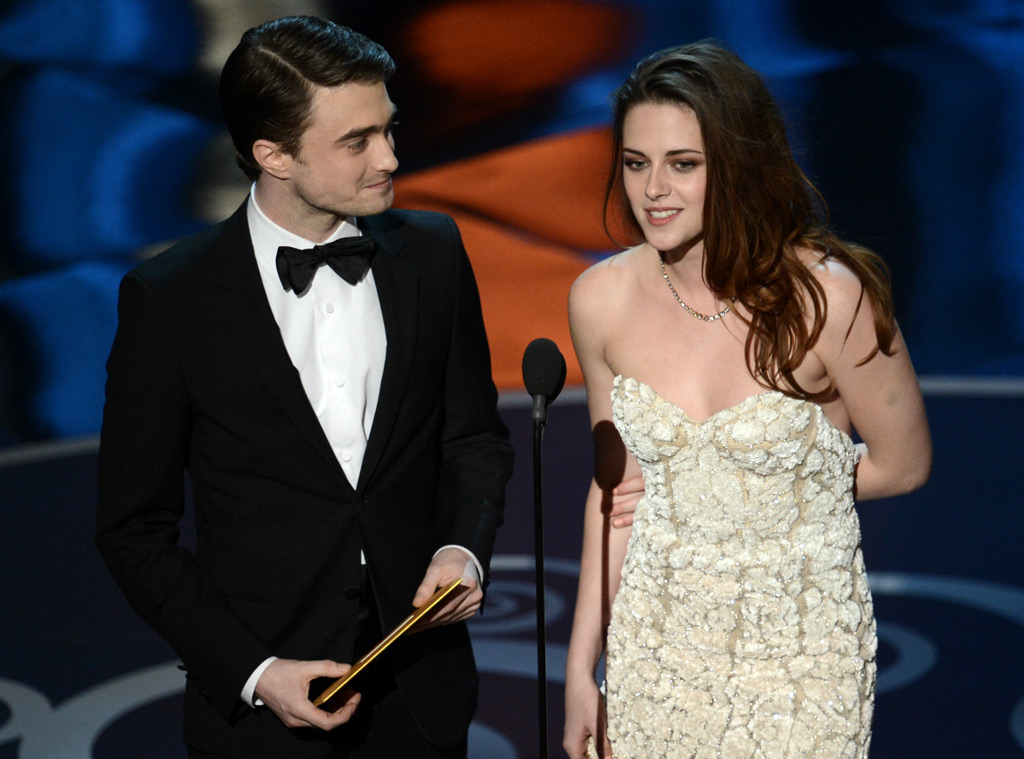 Kevin Winter/Getty Images
Kristen Stewart didn't really need to limp onto the stage when she presented with Daniel Radcliffe last night at the Oscars.
"I felt so bad," Radcliffe said at the Governors Ball. "I just wanted to pick her up, put her in my arms and carry her onto the stage."
Or maybe not. "I probably would have dropped her and opened her wound again," Radcliffe added with a laugh, referring to K.Stew's reason for hobbling on crutches: cutting the bottom of her foot on glass!
Frazer Harrison/Getty Images
Kidding aside, the Harry Potter star said it was about time he and Stewart met.
"I felt like this was a long time coming. I feel like we've been meant to meet," Radcliffe said. "This was the perfect way. And you know what? She is so nice—really, really nice."
Radcliffe also dished on dancing during the show. At one point in the night, he said, he was backstage with fellow Oscar dancers Channing Tatum and Joseph Gordon-Levitt.
"I looked at them and was like, 'Remember your first day of work on your first job? Could you believe we're doing this now?'" Radcliffe said. "They were actually thinking the same thing. The night has been surreal. I never thought I'd be doing any of this."
When Radcliffe was leaving the Governors Ball, he stopped to chat with Oscar producers Craig Zadan and Neil Meron. "Kristin Chenoweth is amazing!" Radcliffe said. "Thank you for sitting me next to her."
This was Radcliffe's first time at the Oscars, and the big night clearly left an impression.
"It was fun," he said. "I can't say enough good things about Seth MacFarlane. I hold him in the highest regard."
Can't wait till Mr. Radcliffe returns to the Oscars as a nominee!