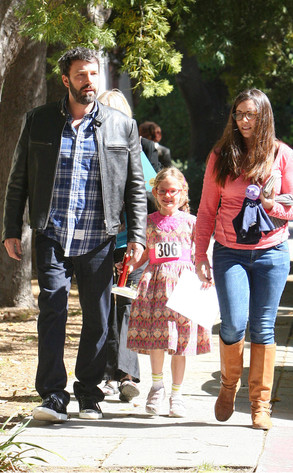 ROQU/AKM-GSI
If you didn't think Oscar nominee Ben Affleck and wife Jennifer Garner could get any cuter after their adorable award season run, well, wait until you hear about their family's pre-Academy Awards "mayhem."
"It was mayhem at our house. Our daughter was in a spelling bee at the local rec center," Jennifer told E! News on the red carpet. "I was in hair and makeup so I couldn't take her, so Ben took her in the middle of everything."
She happily continued, "She won! Our family has already had a great day, so congratulations to our sweetie. And then she had a basketball game. Life goes on. No one really cares! It's just all about trying to keep the dogs and kids from getting stuff on the stuff."