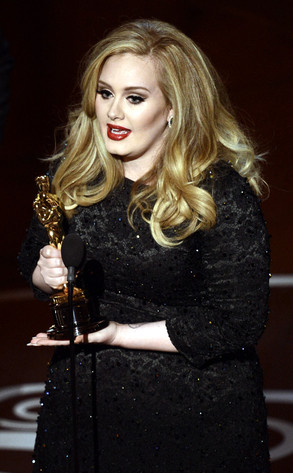 Kevin Winter/Getty Images
Halle Berry introduced the James Bond tribute by saying, "Bond music is a genre, all its own. Guaranteed to make your heart beat faster and take your breath away." (She also threw in a wink, wink, nudge, nudge name drop of Pussy Galore that was sure to have some hearts racing too.)
The actual numbers were spread out through the evening: First, Dame Shirley Bassey belted out "Goldfinger" decked out in—what else?—a golden gown, earning a standing ovation.
Later on, Oscar nominee (for Original Song) Adele took the stage for her highly anticipated first live performance of "Skyfall." It was a simple setup: Some glittery jewels hanging as a backdrop, a band and Adele, with her killer voice and and the sparkliest dress we ever did see.
And as with all things that Adele does, we think it was perfect.