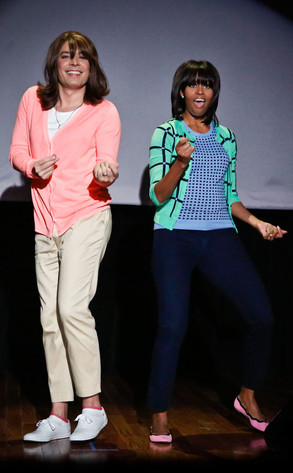 Lloyd Bishop/NBC
Mom-dancing has never been so chic.
In honor of Michelle Obama's national fitness initiative, Let's Move!, Jimmy Fallon donned a soccer-mom wig (with bangs, natch) and pastel cardigan to illustrate the evolution of mom dancing—and, luckily, Obama was his guest tonight, so he didn't have to get his groove on all alone.
Together, they showed off moves like "Go Shopping, Get Groceries," the classic "Raise the Roof," the is-it-silly-or-is-it-sassy "Hip Bump," the always-silly "Sprinkler" and the adorable "Happy Snapper."