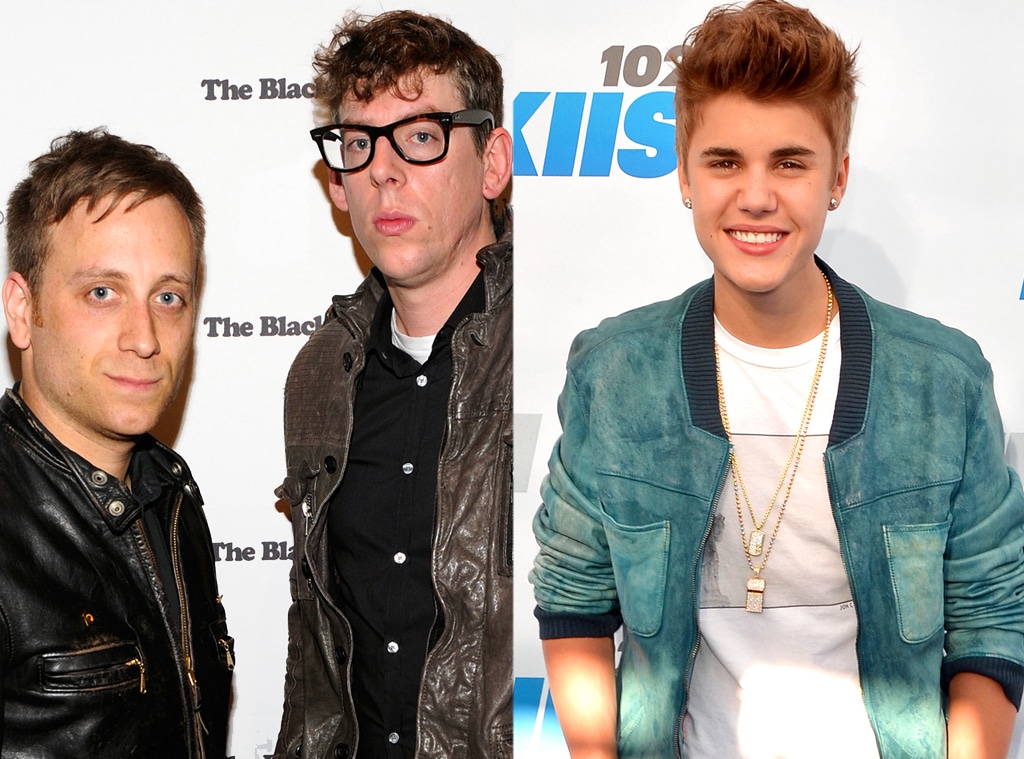 Ethan Miller/Getty Images; Tony DiMaio/startraksphoto.com
Maybe these two oughta hash out their differences in the schoolyard.
The Black Keys drummer Patrick Carney couldn't resist keeping his online war of words with Justin Bieber going after the teen idol slammed him on Twitter last week in response to Carney's diss.
So what did he do?
The musician changed his Twitter name, profile pic and even his biography to Bieber's temporarily and unleashed a torrent of sarcastic taunts aimed at the "Baby" singer's rabid fans—this after receiving nasty tweets from Beliebers, even death threats, after he failed to give Bieber respect when asked if the latter deserved a Grammy nomination.
"No one understands. I was bieber for a weekend. It sockeds! Felt like a scary grandpa and an old prick bitch," he tweeted Wednesday.
The Canadian popster himself helped fanned the flames when he tweeted a week ago that he thought Carney "should be slapped around" for the original diss.
So far, Bieber has stayed mum on Carney's latest stunt (his Twitter handle now says "formerly Justin Bieber"). But here's a roundup of some of the rocker's best comebacks in Justin's name to all the haters:
• "At least I'm the best. RT @imshawtybiebers: @justinbieber r the best idol in the world, not like @patrickcarney the best loser in the world." 
• "You guys are good at that! Proud of y'all. RT @flawlessbieberx: come on babes, do what we do best and sen death threats x @patrickcarney."
• "In order 2 give u guys full swag I have changed my stage name to Justin Bieber." 
• "I luv all you! I need to get my beauty swag. Swag you guyz later! – Justin"
• "My word tour resumes in Europe tomorrow. I will swag u all so much (Don't forget to pick up my new toothbrush) luv u!" 
• "The drummer needs to be slapped. Don't forget to buy believeACOUSTIC RT @carminha_js: @patrickcarney Do you like the Black Keys?"