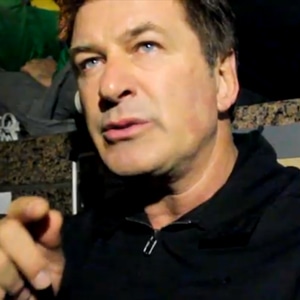 YouTube.com/WeareChange
If Alec Baldwin was hoping his 30 Rock costars would have his back no questions asked, he's gonna be disappointed.
While Baldwin has adamantly denied the accusation brought by a New York Post photographer that he spewed forth some racial slurs during a heated altercation outside his apartment over the weekend, Tracy Morgan has spoken out about the budding controversy and called on his friend to apologize.
That is, if the encounter, which Baldwin called "absolutely false," even went down. 
"If he called somebody a coon, he should apologize," Morgan told the Charlotte, N.C., radio show Drex &  Maney Mornings during an interview this morning. "If anyone calls anybody a derogatory statement like coon...this is 2013. 'Coon' is played out.
"There's no excuse for that in your 50s."
Morgan went on to answer the DJs' questions of whether he ever witnessed any similar behavior from Baldwin like the paparazzo alleged.
"No. He never got with me like that," Morgan said, adding that Baldwin was always "totally friendly" on set.
Still, Morgan, who knows from headline-grabbing comments thanks to his controversy and apology for antigay jokes he made during a standup show in 2011, said a formal apology would be in order if the incident indeed went down as the photographer alleged.
"That goes for anybody. If another black person calls somebody a coon, he should apologize...if he did it."
For now, that remains a pretty big if, as Baldwin himself said that the allegations were "one of the most outrageous things I've heard in my life...it never happened."