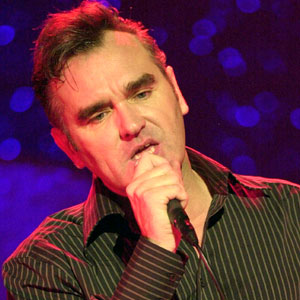 Mike Guastella/WireImage.com
Morrissey is making history at the Staples Center.
For the first time in history, the singer's sold out March 1 show at the Los Angeles stadium will be its first that all the vendors within and around the venue will be 100 percent vegetarian.
Morrissey, a long-time animal activist and vegetarian, says in a press release, "I don't look upon it as a victory for me, but a victory for the animals." 
Morrissey urged the Staples Canter to close down their McDonald's outlets and they agreed, a request that had previously been denied Sir Paul McCartney, according to the release. 
In addition to banishing the sale of "flesh as food" at the singer's request ("Meat is Murder," indeed), the Staples Center and promoter Goldenvoice will each donate a portion of the proceeds of ticket sales to PETA.
Morrissey's North American tour, which was postponed after the British rocker was hospitalized in January, resumes with a performance on Live with Jimmy Kimmel on Feb. 26.