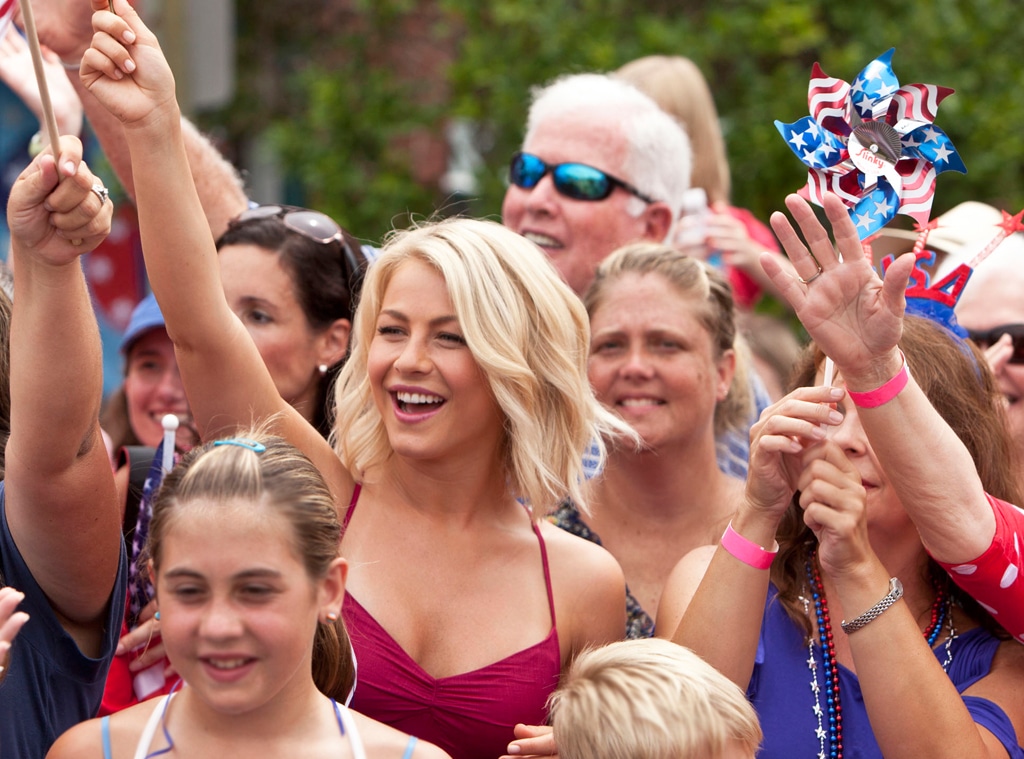 Relativity Media
Bestselling romance author Nicholas Sparks is the king of damsels in distress fare. His latest flick to hit the big screen follows incognito Katie (Julianne Hough) who flees an abusive spouse to hideout in a small North Carolina town. She tries to forget her past, start anew  and be relationship-free. Check out her transformation from downer brunette to can-do blonde! Then shopkeeper Alex (Josh Duhamel) appears: a widower, with two kids, who fixes things, like bicycles and...broken hearts. Katie won't be able to resist for long. Obviously.
We tease, but we fell for this old-fashioned romantic thriller. Director Lasse Hallström (Hachi: A Dog's Tale) pushes every emotional button, every warmly lit shot to deliver, by the fiery finale, a satisfying cathartic cry on.  Look no further to have your heart broken in theaters this V Day weekend. Here's why:
1. The Settings Sparks Picks Are Hard to Resist: As Katie makes new friends, learns to paint and ride a bike, the sleepy fishing town of Southport is a peaceful backdrop of pretty sunsets nearly all the time. There's even a corner store that has only one working door but tons of free books. Whatever that means.
James Bridges/Relativity Media
2. Hough and Duhamel Sizzle: Ever since her memorable turn in the remake of Footloose Hough has that girl next-door thing down. Duhamel is more relaxed falling for Hough than say, fighting along side Optimus Prime. Their heat boils over after a dark and stormy night leaves the couple stranded in abandoned diner.
3. Cobie Smulders Is a Great, New Friend: Katie's gal pal is a mysterious women played by How I Met Your Mother'sCobie Smulders. The whole film is very much like a two-hour mini vacay. For Smulders, that means a break from her usual sitcom zingers. There were times when we were hoping Katie would get more BFF time with her instead of Duhamel. Hough has chemistry with everyone. A nice problem to have. Well, maybe not...
4. The Big Bad From Revolution Is Still Bad: Too much attention can be bad, like a pesky cop hot on your heels. We're betting in real life actor David Lyons is a sweetheart, but he is way too convincing as a grade-A thorn in everyone's side as the man as Tierney. We wish he would just chill out with a doughnut. No coffee.
5. Flashbacks vs. Real Time: Most of the film takes place in Southport, which is effortlessly enjoyable. And then, there are a lot flashbacks and scenes with Tierney hunting for Katie, which break up the serene romance-building scenes between Katie and Alex. By the end, all the plot threads are tied up but there's one "gotcha!" moment too many. The heart of Safe Haven (all Sparks stories, really) is the woman and her man. For that reason, Safe Haven soars.
Are you a big fan of the Nicholas Sparks novels and their movie adaptations? Or not so much? Sound off in the comments!