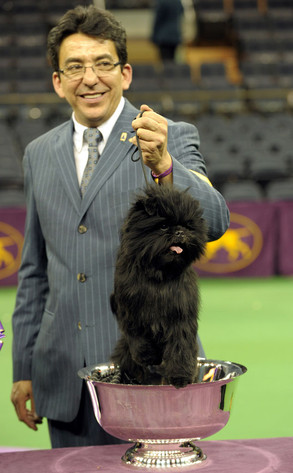 STAN HONDA/AFP/Getty Images
Not only is Banana Joe cute, but he's cuter than nearly 3,000 other dogs. Or so says the 137th annual Westminster Kennel Club dog show, which awarded the 5-year-old pup the honor of Best in Show during last night's competition.
Looking like some sort of mix between an Ewok, a monkey and the cutest ball of fluff ever, Joe is an Affenpinscher (which, in German, literally means "monkey-like terrier") who has 85 past Best in Show titles under his doggie belt.
His owner, Ernesto Lara, dubs him "a small dog with a big heart." We dub him shmootzy wootzy little cutie pie.