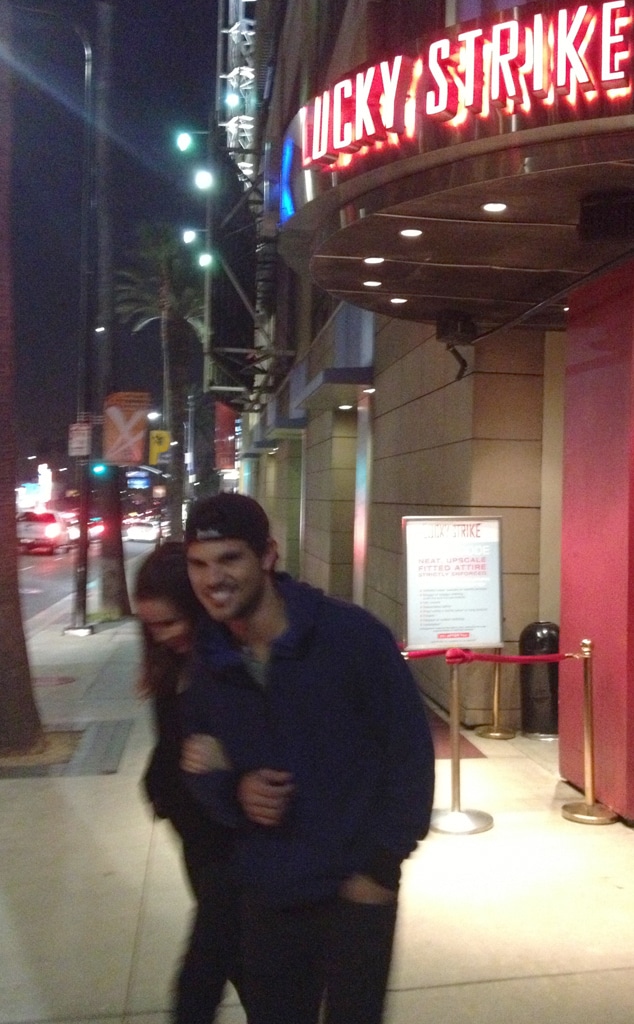 Twilight reunion alert!
Kristen Stewart was one of the pals in attendance when Taylor Lautner celebrated his 21st birthday with a low-key bowling party at Lucky Strike Lanes in Hollywood on Saturday night, E! News has confirmed.
A source tells us that, despite being newly of age, Lautner stuck with soda and he and his pals feasted on pizza, sliders and Sprinkles cupcakes.
As seen here in this pic with one of his pals, the actor kept the vibe casual, eschewing the designer togs he so favors for a blue hoodie sweatshirt and a Yankees cap.
In fact, Lautner was so low-key, "he didn't want people to sing 'Happy Birthday' to him,'" the source adds, "but his friends wanted to do it anyway."
"When Kristen Stewart arrived," our insider says, "he got super excited and gave her a big hug. It was more of a best friend moment."
The third side of their Twilight Saga love triangle, Robert Pattinson, probably got an invite but he's currently in Australia shooting The Rover.
We also hear that, after a night well spent bowling and hanging with friends, Lautner signed one of the Lucky Strike pins before he left.