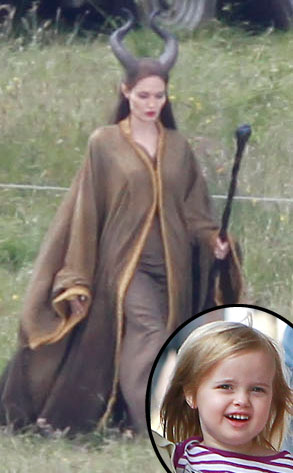 Almasi/Splash News; Juan Sharma/PacificCoastNews.com
Vivienne Jolie-Pitt may need a bigger piggy bank. Of course, she can certainly afford to buy a new one.
The 4-year-old daughter of Angelina Jolie and Brad Pitt pulled in an impressive $3,000 a week for working alongside her mother in the upcoming live-action fairy tale, Maleficent, according to a court filing of the minor's contract, as obtained by TMZ.
What's more, Vivienne reportedly received a per diem of $60 a day as well.
It was revealed by Disney in August 2012 that little Vivienne had been cast as the child version of Elle Fanning's character Princess Aurora in the film, a 3-D reworking of 1959's Sleeping Beauty that explores the origins of the iconic villain, Maleficent. Jolie plays the titular sorceress who casts a spell on Aurora.
Viv's older siblings, 8-year-old brother Pax and 7-year-old sister Zahara, were also hired as walk-on players for the christening scene in which Maleficent curses the infant Aurora, causing her to fall into a magical sleep that can only be broken by a kiss from her true love.
Maleficent is slated to hit theaters in March 2014.