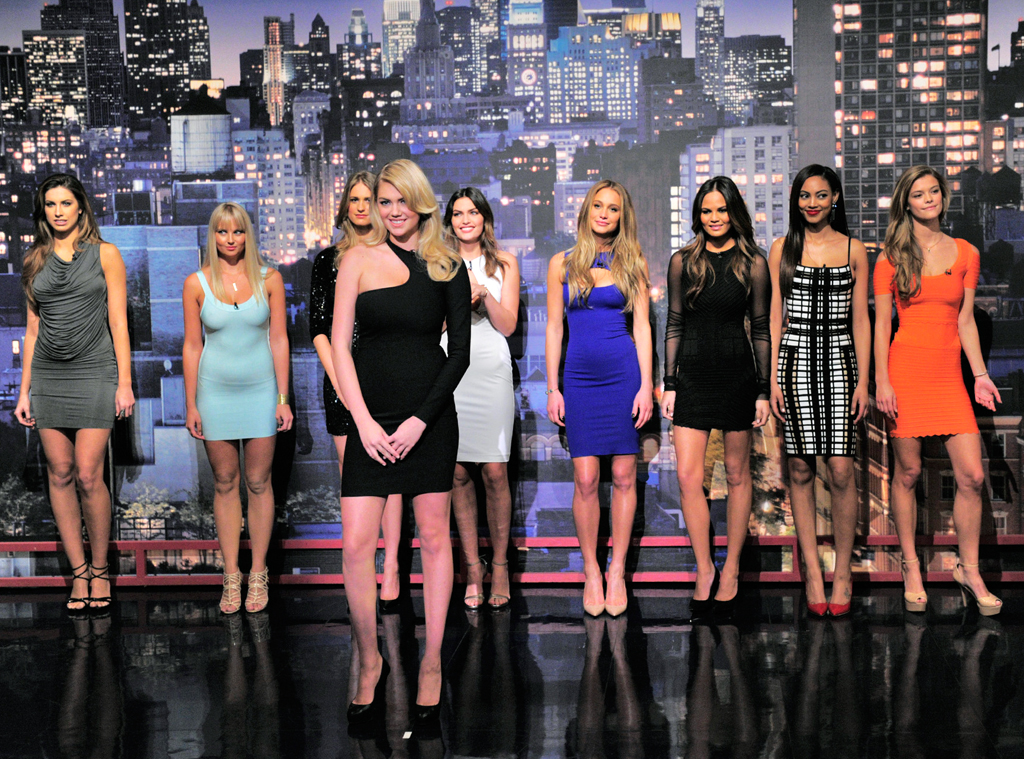 John Paul Filo/CBS
How to make a splash when the 2013 Sports Illustrated Swimsuit Issue cover has already been revealed?
Why, have cover girl Kate Upton bring nine of her smokin' hot friends along, of course!
The Late Show With David Letterman has the annual honor of unveiling the massive billboard featuring the year's most hotly anticipated SI cover—but, since the cover tends to leak ahead of time, they've got to be prepared with an equally enticing backup plan.
So, even though they already knew who would be reading No. 1, Upton and her fellow swimsuit models put on dresses and gamely trotted out to present the Late Show Top Ten list, Monday's topic being the top 10 questions on the application to become a SI swimsuit model.
Emily DiDonato kicked things off with: "How naked do you see yourself in five years?"
"Have you ever dated Charlie Sheen?" asked Nina Agdal.
"Have you ever used any pose-enhancing drugs?" Julie Henderson read No. 4 in fine comedic form.
"Are you willing to visit the elderly at his late-night talk show?" offered Genevieve Morton.
"How would Brent Musberger describe you?" Miss Alabama Katherine Webb, making her Sports Illustrated debut this year, came in at No. 2 with a nod to Musberger's career-making lavish praise of her during the BCS title game.
And, wrapping it up at No. 1 was cover girl Upton, with: "Where's the strangest place you've found sand?" 
Cue the billboard.