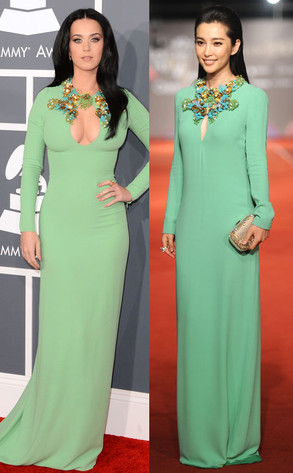 SAM YEH/AFP, Jason Merritt/Getty Images
Leave it to Katy Perry to put her own signature on an otherwise conservative designer look.
Or, in this case, make that two signatures.
It turns out the conversation-starting Gucci gown that the pop star wore to last night's Grammys wasn't necessarily made for ogling, as evidenced by the way it fit on Resident Evil: Retribution's Li Bingbing. The Chinese actress wore the floor-length, long-sleeve dress to the 49th annual Golden Horse Awards, Taiwan's equivalent to the Oscars, in November.