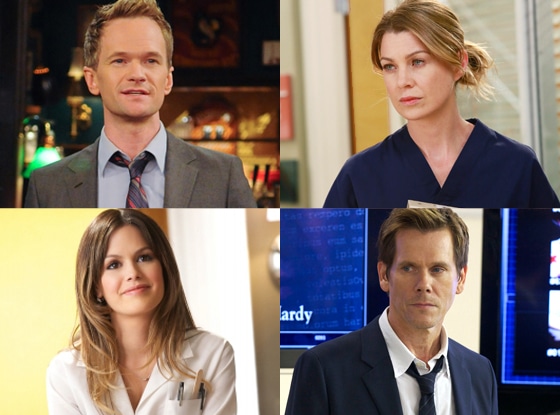 CBS; ABC; FOX; CW
How I Met Your Mother, Grey's Anatomy and The Following, oh my!
That's right! Scoop on those three shows await you in today's Spoiler Chat, which includes spoilers on a Grey's couple, a final season tease from one of HIMYM's stars and juicy details on a certain charismatic serial killer's whereabouts on The Following. Also included is an update on a Hart of Dixie fan favorite couple, plus, we've got scoop on 90210, The Carrie Diaries and more!
Nicole in Dallas: Anything fun coming up on 2 Broke Girls?
Would you believe the girls quit the waitressing biz? No? Ok, that's not exactly what happens, but Max and Caroline will soon enter the temping world and will find employment in an office environment. Spoiler alert: One of the gals soars at their new gig, while the other sinks. Any guesses as to which girl does what?
Selma: Grey's Anatomy couples scoop?
You know those two people you wish could stop all the madness and just be together for real? One half of that couple will get help restoring the relationship from an unlikely source: a 12-year old patient with a terminal disease.
Jim in Crown Point, Ind.: Regarding How I Met Your Mother ending soon…I'm interested to see how they are going to treat Barney now that the final season will be about meeting the mother.
According to Neil Patrick Harris, Barney will definitely have plenty to do in the final season of HIMYM. "I know that their plan if the show ended in season eight was that [Barney's end] was going to be brief, but now that the show ends in season nine we have a really nice structure that I think fans will like," he told us on the red carpet at the Grammys on Sunday. And yes, Harris agrees that it's definitely time to say goodbye to the series. "We don't want to outstay our welcome! Especially when the show is a question. You need to get to the point and end it in a nice way."
Arty M.: This is about The Following. They can't keep Joe Carroll in prison the whole time, can they?
We don't want to spoil too much so the only thing we'll say is no, Joe Carroll will not remain in one place for the entire first season.
Eric Liebowitz/Warner Bros. Entertainment Inc.
Samantha: The Carrie Diaries is so sweet and touching! Got any scoop on what's next?
Two breakups and a confession! Yes, two couples will call it quits in next week's episode, while Maggie will finally come clean about cheating on Walt, spilling her secret to [spoiler]. Oh, and Sebastian? Still a dreamboat. Sigh… (P.S.: Sex and the City fans, look out for a fun little nod to Mr. Big.)
Eliza: I'm a big fan of George and Zoe together on Hart of Dixie (Sorry Zade shippers!!) Any chance for some romantic stuff coming up for them?
Unfortunately, no. Things are going to get pretty serious for George and Tansy. We're talking cohabitation and meeting the family situations. It might be time to jump off that George and Zoe train, girl. Then again, Hart of Dixie loves to mix and match their love triangles, so to hell with it, hop back on the train! and a dying wish…
Dani: I'm sick of hearing about Lannie! Give me some scoop on Naomi on 90210!
Your favorite 90210 girl will put her burgeoning career as a restaurateur before her friendship with Adrianna when her half-brother tries to leave town. She tries to force Adrianna on him as a reason to stay. In other 90210 news, Silver will be getting some very big news very soon. Of course, the news comes with an unexpected twist involving one of her exes.
—Additional reporting by Jenna Mullins and Tierney Bricker
Want your TV questions answered in our next Spoiler Chat? Email them to tvdiva@eonline.com or tweet at @KristinDSantos!