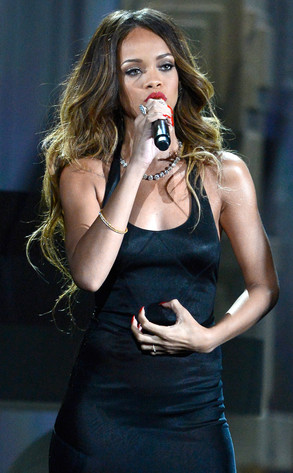 Kevork Djansezian/Getty Images
Rihanna may have been getting quite cozy with on-again boyfriend Chris Brown during the 2013 Grammys, but it was a different story onstage. Or should we say, a different man: Mikky Ekko.
The Nashville native (who wrote the song for Ri-Ri and has some killer tunes of his own) joined the Unapologetic songstress for a duet of "Stay," a more intimate performance than the rest of the jam-packed Grammy lineup and certainly tamer than what we're used to expecting from the controversial pop star.
Rihanna, dressed in a black slip and surrounded by pillars, crooned along to the tune and received a standing ovation from Breezy at the end.
Come back tomorrow to E! News and on E! Online for the exclusive premiere of the music video for "Stay."