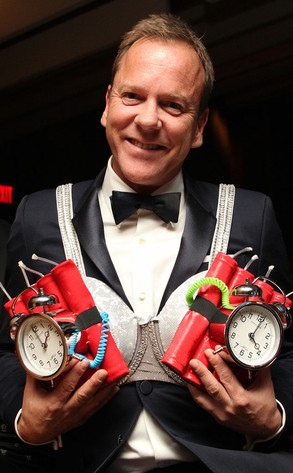 Gail Oskin/Getty Images
Kiefer Sutherland got more support than he was used to tonight.
The Touch star donned a bomb-strapped bra—a nod to his eight seasons racing the ever-ticking clock on 24—over his tux and gamely let actors dressed in drag swoop in from all sides Friday at the Hasty Pudding Theatricals' Man of the Year roast in his honor.
In addition to taking some good-natured ribbing, Sutherland was presented with the traditional pudding pot and lassoed a fake cow at a ceremony that was moved to the Charles Hotel in Cambridge, Mass., thanks to a blizzard that prevented the usual outdoor shenanigans.