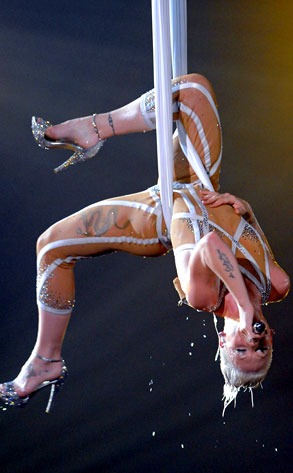 Jeff Kravitz/Getty Images
The folks behind the Grammy Awards want to make one thing clear: When it comes to the dress code for this year's telecast, there are no ifs, ands or butts.
Producers have reportedly sent out detailed and militant guidelines to this year's nominees and attendees advising them on the proper attire to wear to Sunday's show, in an obvious attempt to avoid a Janet Jackson–esque wardrobe malfunction of FCC-catastrophic proportions (or at least a suggestive costume like the one Pink wore while performing at the show in 2010).
In a straight-faced, if unintentionally riotous, email purportedly sent out by Grammy honchos and obtained by Deadline, attendees are requested to "adhere" to an apparent "network policy" on curbing those wild duds.
On the no-fly-zone list? Butt cracks, thongs, underboobs, side boobs, sheer frocks, nipples and, ahem, overly demonstrative groin areas.
The purported memo's language, however, is the real clincher, as—among other things—it advises:
"Please be sure that buttocks and female breasts are adequately covered. Thong type costumes are problematic. Please avoid exposing bare fleshy under curves of the buttocks and buttock crack. Bare sides or under curvature of the breasts is also problematic. Please avoid sheer see-through clothing that could possibly expose female breast nipples. Please be sure the genital region is adequately covered so that there is no visible 'puffy' bare skin exposure."
Additionally, the missive warns against stars blatantly shilling for products via "commercial identification of actual brand name products on T-shirts," as well as hawking personal causes in the form of lapel pins and other similar accessories.
Outfits emblazoned with expletives and foreign words will also get the red flag, as the Grammys' clothing police will be keeping an eye out for any foul language that the camera might inadvertently catch.
Whew! Did all you Grammy performers and nominees get that on your checklist?
The Recording Academy has not yet commented on the reported missive.
Lest we forget, though, that the Grammy Awards are actually a celebration of musical talent and not just a flesh fest, the Recording Academy has also announced that Elton John, Mumford & Sons, Zac Brown and Alabama Shakes' Brittany Howard will be performing together in a special tribute to the late, great Levon Helm of The Band.
Well, guys: Guess now's not the time to show off that snazzy new thong you've been meaning to bust out.