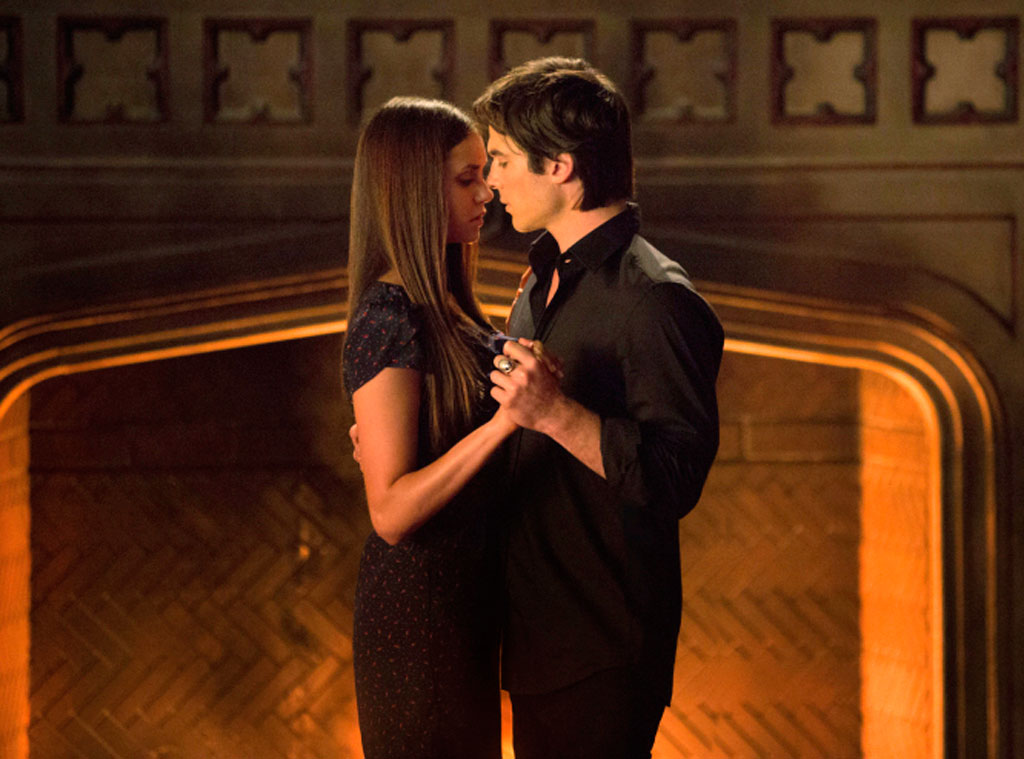 Bob Mahoney/The CW
Prepare for tragedy, Vampire Diaries fans.
Something bad happening in Mystic Falls? Must be Wednesday! Alas, this is the scoop one of the show's hot stars shared with us and it sounds like this something bad will be pretty "explosive." (OK, it sounds that way because that's exactly what we were told!) Aside from big TVD scoop, today's Spoiler Chat also has intel on a Smash hookup, an upcoming can't-miss event on Happy Endings and what's ahead for Leonard on The Big Bang Theory. Plus, scoop on New Girl, The Americans and more!
Tanya: Mikita scoop!
How about a brand new clip from this week's episode of Nikita? Michael puts the pressure on Birkhoff to reveal Nikita's secret plans. Ruh-roh!
MaryAnne: Vampire Diaries spoilers, I am begging you! What's coming up for Elena and Damon?
What's coming up is big, big changes. "Something happens in the near future, something pretty tragic and terrible and kind of show changing," Nina Dobrev tells us. "It's going to really affect every single person. It's going to especially affect Damon, Elena and Stefan in a pretty crazy, controversial way. The whole show is going to shift. It's going to be explosive." That sounds ominous. Any guesses as to what's about to go down?
Lorena: I know everyone is all about Nick and Jess on New Girl, but I still think Jess and Schmidt would be cute together. Any hope for those two?
According to Max Greenfield: hell to the no. "I think Zooey and I really created an interesting relationship in the beginning where it was very sibling-like. I feel like we have a much more brother-sister thing than Nick and Jess," he tells us. "I don't think there's ever been any [sexual tension] between us. I don't see it working and I wouldn't want to see them going in that direction. It would be a line that would be difficult to cross back over from." Sorry, girl. Nick and Jess forever!
Valorie: Smash romance scoop if you've got it!
Since you were so very vague with which couple you wanted scoop on, we're going to be equally as vague: A fan-favorite pairing will share their first kiss in the third episode. Yay! Not so yay-inducing? One of them is under the influence, which kind of dampers the first kiss. But only a little bit.
Annie: Bummed that TBBT's Leonard and Penny got knocked out of the TV's Top Couples...so spoilers would be appreciated.
Leonard starts to question a big part of his life in an upcoming episode. No, not Penny; his career. A visit to a grade school to talk about how he became a scientist sort of puts him on a quarter-life crisis spiral. On a happier note, Raj manages to have a successful date with a girl, while sober! How does that happen? Through texting, of course.
Rachel in Pittsburgh: Happy Endings scoop??
Max is entering a...wait for it...gay beauty pageant. Yes, you read that right. There's even a category called "Gay Fitness." And it's up to Dave and Alex to help him win. And that is how we get a flashback to Dave's childhood where he sings "I Got You, Babe" dressed as half Sonny Bono and half Cher. We could not love this show more.
Tommy: Americans scoop? I love that show!
Tonight's episode is a tense one because Phillip and Elizabeth are tasked with pulling off a mission they've had little to no time to prepare for, and several things go dangerously wrong. On the bright side, there's a really steamy scene with Elizabeth and Phillip!
—Additional reporting by Jenna Mullins and Tierney Bricker

Want your TV questions answered in our next Spoiler Chat? Email them to tvdiva@eonline.com or tweet at @KristinDSantos!