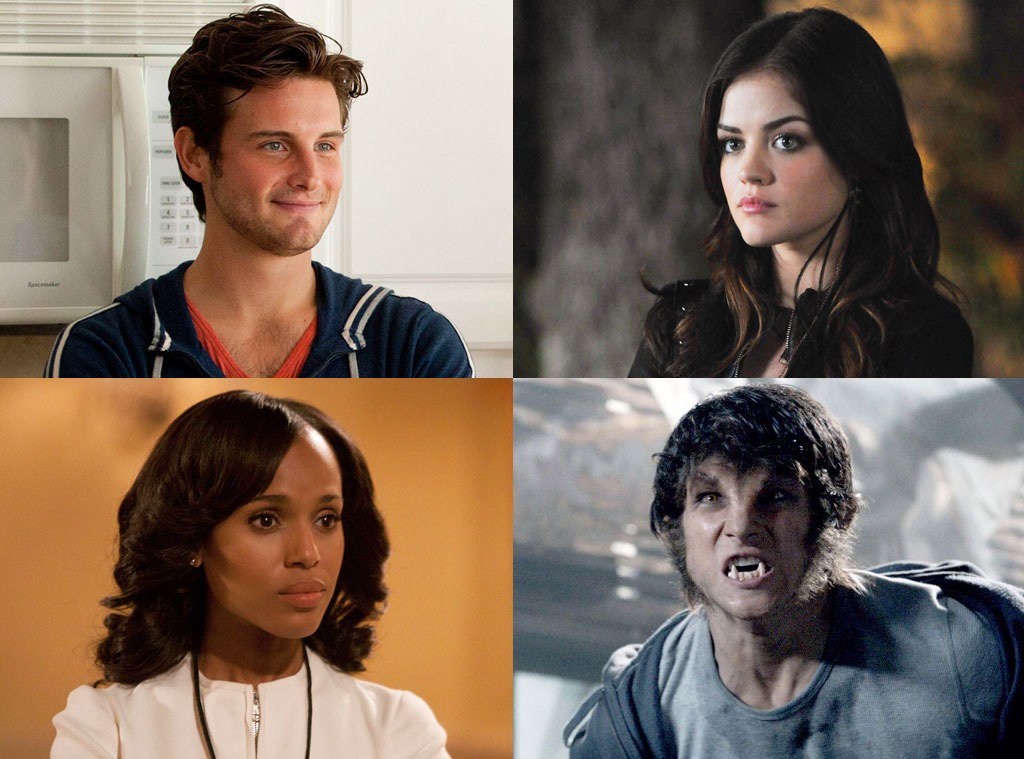 MTV, ABC, FOX
Romance and murder, can you think of a better combination?!
In today's Spoiler Chat, we've got scoop on a fan favorite couple on Pretty Little Liars and the character that could come between them, juicy details on Scandal's game-changing episode and an epic tease of what's to come on Kevin Bacon's hit serial killer thriller The Following. Plus, get spoilers on Teen Wolf, Hart of Dixie, The Mindy Project and more!
Lauren: Please tell me Ezra and Aria will be OK on Pretty Little Liars now that he knows about his son!
No can do! "It's huge, it's profound. It does make him reevaluate the other relationships in his life, like Aria, like living in Rosewood and this child it at a distance. It's huge for him," executive producer Oliver Goldstick previews. "He has to make some decisions and figure things out and take a step back from his relationship with Aria." Oh, and guess who is coming back into Aria's life? "Wouldn't you know it, when [Ezra] steps back, Wes, his little brother, steps in, who is strangely comforting to Aria in a time when he shouldn't be," Goldstick teases.
Noelle: In dire need of some Scandal scoop!
Do not miss Thursday's game-changing episode. In fact, watch it live to avoid being spoiled because everything changes. Not only is there a death, but Charlie, Cyrus' assassin, once again returns to possibly take out someone major. Yikes! Oh, and someone also asks Huck to make a kill on their behalf as well.
Kevin H.: The Following is my new obsession. I'll take anything I can get.
How's this for a juicy little tease: Jacob has never [spoiler] before!  And Paul knows his little secret, but not Emma. Oh, and Jacob might [spoiler] for the first time by episode's end.
Sarah: Will Allison and Scott be getting new love interests when Teen Wolf returns?
Though there a couple of new female characters being introduced in season three, Tyler Posey tells us, "So far they just want to kill me! So far no new potential love interests. Not yet." But Allison may or may not have a new love interest in season three and it may or may not be someone viewers have already met.
John: When is Patrick Wilson showing up on Girls? I miss him on my TV screen!
Relax, the wait is almost over: Wilson makes his debut as Joshua in next Sunday's episode, and you'll be seeing a whole lot of him. The episode centers mostly on Joshua and Hannah together, save one scene, and features a lot of nakedness. Including naked Ping-Pong. And this is where Lena Dunham says, "You're welcome, world!"
Tess: Mindy Project romance scoop, please!
It's Valentine's Day, Mindy Kaling-style, which means a trip to the Empire State Building.  Romantic, right? Except for the fact that Mindy is questioned by security for lurking around the lobby in an attempt to meet her dream man.  Keep your eyes peeled for a superfun celebrity cameo in the opening scene! (Hint: It's someone currently on an AMC series.) Oh, you wanted actual romance scoop? Fine. Sound the cute-moment alert as Mindy and Danny close out the ep together in a place close to his heart.
Claudia: Anything on Zoe and George on Hart of Dixie? I haven't given up on them!
Though George is currently happy with Tansy, it doesn't mean he isn't still looking out for Zoe. When George teams up with Wade for the Battle of the Bands concert, he doesn't like what he sees when he spots Wade chatting up a groupie. Ruh-roh!
—Additional reporting by Tierney Bricker