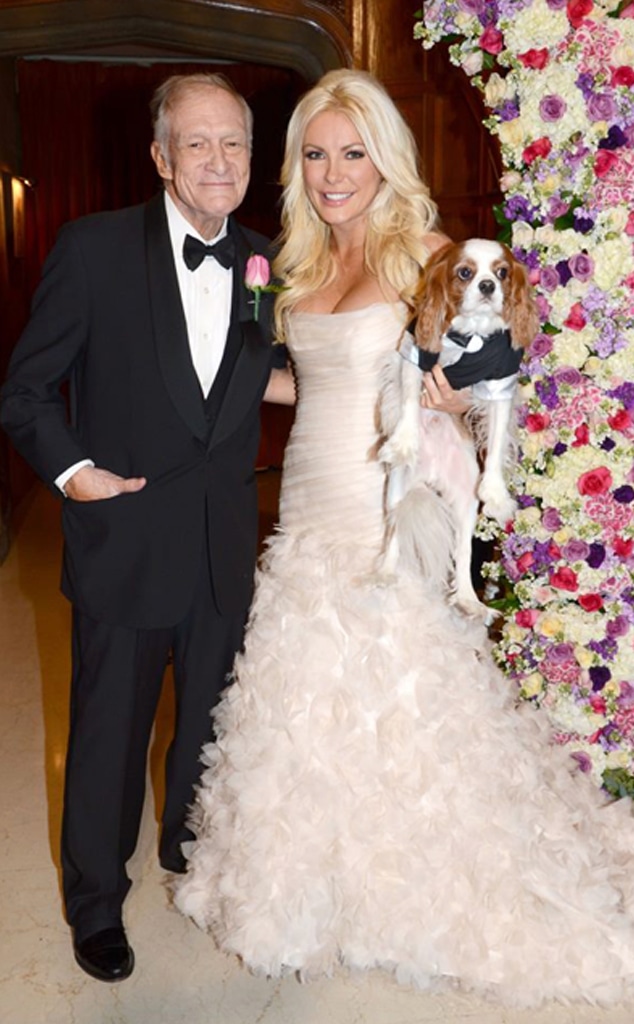 Facebook
Mrs. Hugh Hefner's wedding attire can be all yours, but it'll cost you.
Playmate Crystal Harris has decided to put her beautiful gown and stunning shoes from her New Year's Eve nuptials to the Playboy head honcho up for auction, and it's all for a great cause.
"In light of Mary O'Connor's passing, I was happy to be able to do this to honor her memory," Harris told E! News exclusively. "Mary was a major part of my husband's life and empire for over 40 years and this special auctioning of my wedding gown to benefit The Lymphoma & Leukemia Society was a way for me to express my appreciation for all she did for him.
"Mary was one of my closest friends and was the rock of the Playboy Mansion. She was the one I confided in with all my problems and the one who always gave me the best advice, and taught me many life lessons that I will carry with me always."
Harris first announced the auction on Twitter yesterday.
"I am auctioning my wedding dress with @charitybuzz to raise money for lymphoma in memory of Mary https://bit.ly/U5kS9y," Harris tweeted.
Mary is, of course, Hef's longtime secretary and friend (and "Mansion Mom") who passed away recently. 
"Crystal is donating this dress in memory of her good friend, Mary O'Connor. Mary was Hugh Hefner's longtime assistant of 40 years, and is credited with helping Crystal reconcile with Hef last year, ultimately leading to their recent wedding. Money raised will benefit the Leukemia and Lymphoma Society in Mary's name," according to the statement posted on the auction website.
"Mary always put everyone before herself, and was a strong woman who always stood her own," Harris told E! News. "She was my maid of honor at the wedding and the one who brought Hef and I back together, for which I owe her everything. She meant the world to me...Hef and I miss her dearly."
Harris' strapless, floor-length mermaid-style, soft pink Romona Keveza gown and Aruna Seth shoes are currently at a bid of $1,000. The auction is set to end on Feb. 11. 
—Reporting by Sharareh Drury
(Originally published on Jan. 31, 2013, at 9:00 p.m. PT)