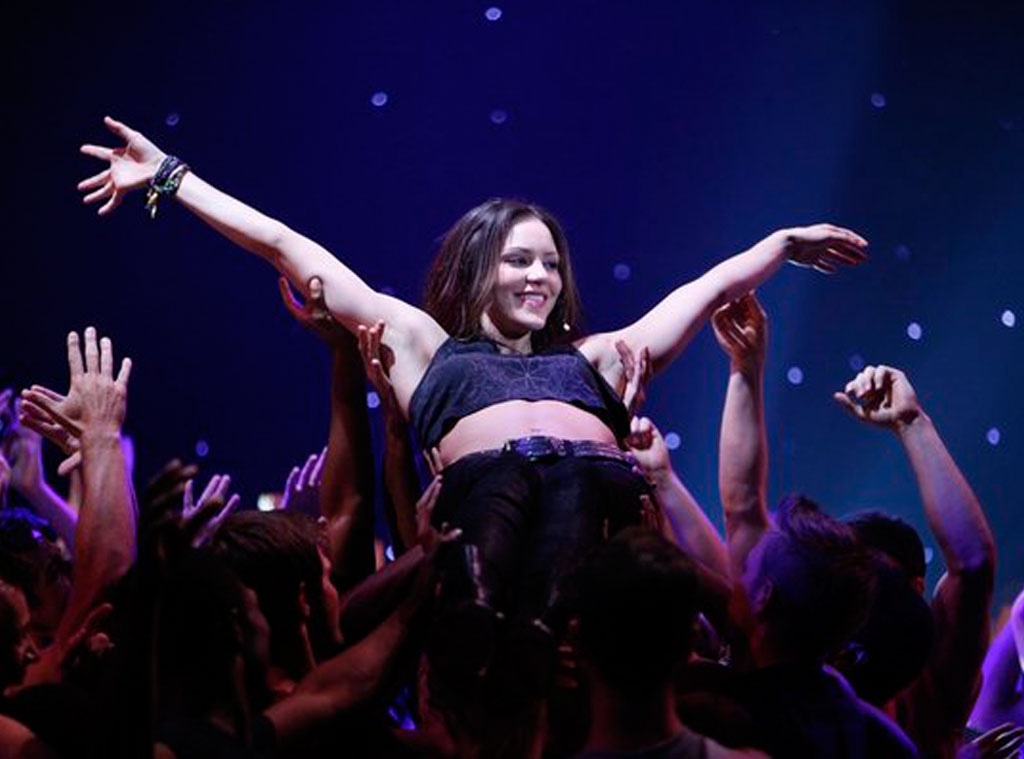 NBC
Start warming up those vocal cords!
Yep, we're only days away from the season two premiere of NBC's polarizing Smash and we've got juicy scoop straight from the stars in today's Spoiler Chat, which also includes information on an upcoming NCIS episode that Tony and Ziva fans will not want to miss! Plus, we've got spoilers on Game of Thrones, The Following and more! So wait are you waiting for? Dig into some calorie-free scoopy goodness...
Marla D.: Please tell me you have some NCIS scoop, especially if it's related to Tony and/or Ziva and what we could expect for them as the season goes on? Thanks.
Starting in the episodes airing next month, Tony and Ziva's relationship will reach a turning point, especially in the Feb. 19 episode where Vance will be grieving over the loss of his wife. We advise you to not miss any more episodes for the rest of the season! Oh, and you are voting for Tony and Ziva in our TV's Top Couples tournament, right?
Margaret: Smash is (almost) back! Hit my with some scoop!
We can tell you that it will be rough going for Derek in the first few episodes. "Aspects of his personal behavior do slightly come back to haunt him, that's for sure," Jack Davenport previews for us. "As well as the fact that his combative style—whilst it often gets results, not everyone enjoys being on the end of it. And the creative team around Bombshell, as you saw in the first season, we continue to be not entirely peaceful with one another. And that develops into areas that I was quite surprised be." As for Eileen, Anjelica Huston tells us that there are "whispers of a new romantic interest" for her character, but she will be taking a break from throwing drinks in her ex-husband's face for the time being. Bummer.
Audrey: A question about the pregnancy blind item. When will the mother find out she is having a baby? (How much do we have to wait to find out who are the parents-to-be?)
If we were betting people (and we are), we'd say that an episode in February is when the baby news will get out. Want a new hint? OK, the show in question has been on the air for longer than one season.
Hamptons: Happy Endings spoilers…what do you got?
The Happy Endings writer's room tweeted this photo out earlier today with the caption: "Somebody's getting maaaaaaaarrieeeeeeeed!" Obviously that is Penny looking beautiful as her father (played by Andy Richter) walks her down the aisle. We have on good authority to believe that this is not a dream sequence, she is actually at her wedding….but there is a shocking twist in the episode that will make Penny's big day less than magical.
Alicia: You keep talking about the crazy love triangle on The Following, but I want to know about Joe and Ryan's situation. Is it weird I already ship them?
In next week's episode, we'll get more flashbacks to the beginning of Joe and Ryan's friendship. There is drinking involved. They were bros once! And it breaks out heart to see them fight. Just kidding, Joe is a serial killer…of course we don't feel sorry for him.
Penny in Chicago: 30 Rock is over and The Office is almost over. My heart cannot take this. Can I get Office scoop to help ease the pain?
Jenna Fischer tweeted recently that six, count 'em, six characters from past seasons will appear during the final episodes. We know Gabe (Zach Woods), Kelly (Mindy Kaling) and Ryan (B.J. Novak) are all returning…any guesses as to who else will be making an appearance at Dunder Mifflin?
Felix: Did you get any scoop from the Game of Thrones cast at the SAG Awards?
Considering they weren't nominated for an ensemble (snubbed!), we did not get any Gamers on the carpet. But as a consolation prize, here is Jon Snow …in the snow…talking about the snow. Feel free to ignore our jokes and just watch the new behind-the-scenes featurette.
—Additional reporting by Jenna Mullins