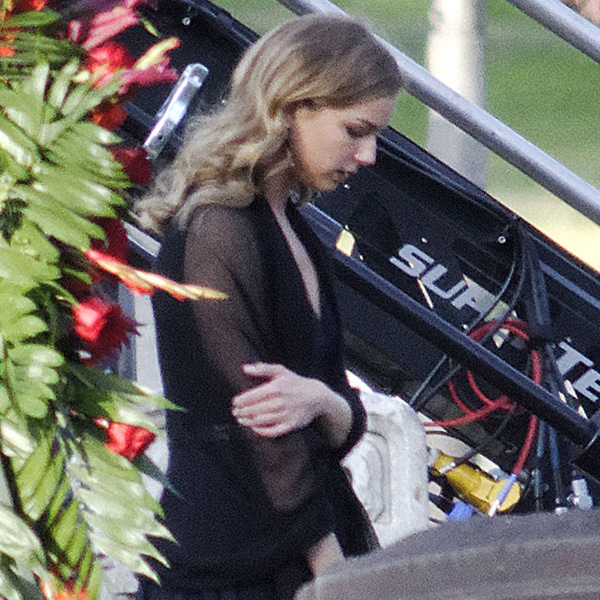 BTF/FAMEFLYNET PICTURES
A major character is about to die on Revenge!
If you don't want to know who it is, for the love of all that is vengeful, look away, you adorable little spoiler prude you.
But if you do want some very telling hints, check out what we've deduced from on-set photos that were just snapped of the big funeral:
EXHIBIT A: The three leading characters missing from the funeral scene—and therefore, most likely to be killed off—are Emily's best frenemy Ashley (Ashley Madekwe), the real Amanda Clarke (Margarita Levieva) and the show's evil patriarch Conrad Grayson (Henry Czerny).
EXHIBIT B: Charlotte (Christa B. Allen) appears to be emotionally rocked by this death, as she is seen looking très sad at the gravesite, holding a single white lily. Her mother Victoria (Madeleine Stowe) and brother Daniel (Joshua Bowman)?  Not so much. Daniel seems more concerned about his little sister's well-being than anything.
EXHIBIT C: Declan (Connor Paolo) and Jack (Nick Wechsler) both are at the funeral, Jack looking more somber than his little bro.
EXHIBIT D: Czerny (Conrad Grayson) himself tells us the death is "going to be very emotional. If you're looking at the show to feel stuff...you're going to get more than what you asked for with the episode where the person dies. You are going to be able to feel all the things you've wanted to about the show. It's going to be an emotional ocean."
WHO WILL DIE: We think it's pretty obvious, since there's only one character who was not spotted at the funeral, and who is close to both Charlotte and Jack, but not the others. Are you following? Thought so!
MONKEY WRENCH: Naturally, these on-set photos could all be a big red herring, so we'll be tuning in Sunday nights to ABC to see who actually ends up kicking it.
[Confession, though, we're hoping it is who it seems it is, just because we want Emily to have a real shot again with her childhood love. It's all we want for Valentine's Day, ABC! Don't hold out on us!]
Who do you think will die? Hit the comments section!