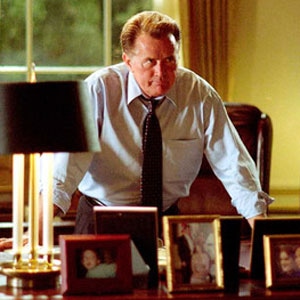 NBC
Like his erstwhile TV alter ego on The West Wing, President Josiah Bartlet, when Martin Sheen is wrong he's willing to admit it. 
With his name attached to fellow actors Ed Asner and David Clennon's petition criticizing Zero Dark Thirty for scenes which they say endorse torture, the actor and political activist set the record straight, saying his opposition to the film in no way means people shouldn't see it. 
"It's my own fault," the 72-year-old Sheen told the The New York Times, noting that he erred by signing on to the letter earlier this month without realizing it slammed Zero Dark Thirty and called on Academy voters not to bestow any Oscars on it, not merely condemn the torture it depicted.
The thesp revealed that he's been in touch with the movie's director, Kathryn Bigelow, and its screenwriter-producer, Mark Boal, and had nothing but praise for ZDT, which he said has "done great, great service" in helping expose a shameful policy in the U.S. War on Terror and the hunt for Al Qaeda mastermind Osama bin Laden.
Sheen added that he had viewed the thriller a few weeks ago and "was very moved and troubled by it."
The Catch-22 star further went on to describe his part in the protest as the result of miscommunication between himself and Clennon, saying he only talked with his pal about the issues through an assistant and not directly, which prompted the misunderstanding.
"[David]'s one of my heroes," noted Sheen.
In the wake of their protest, a number of Hollywood heavyweights spoke out in defense of Zero Dark Thirty besides the filmmakers themselves, among them Sony Pictures chairman Amy Pascal and firebrand director Michael Moore, the latter of whom hailed it as a "disturbing, fantastically-made movie" that will "make you hate torture."
Moore also added that while Bigelow and company have a responsibility to communicate their vision "clearly and skillfully," which he felt they did, he didn't think artists should "dumb down their work so that lesser minds among us 'get it.'"
For his part, Clennon wrote an email to the Times in which he clarified the letter of protest's aim.
"None of us, who advocate the abolition of torture, have tried to discourage others from seeing the film," he wrote. "Ed Asner and I have expressed our opposition to the fim's encourage of the tolerance of torture."
And now back to the Oscar race.