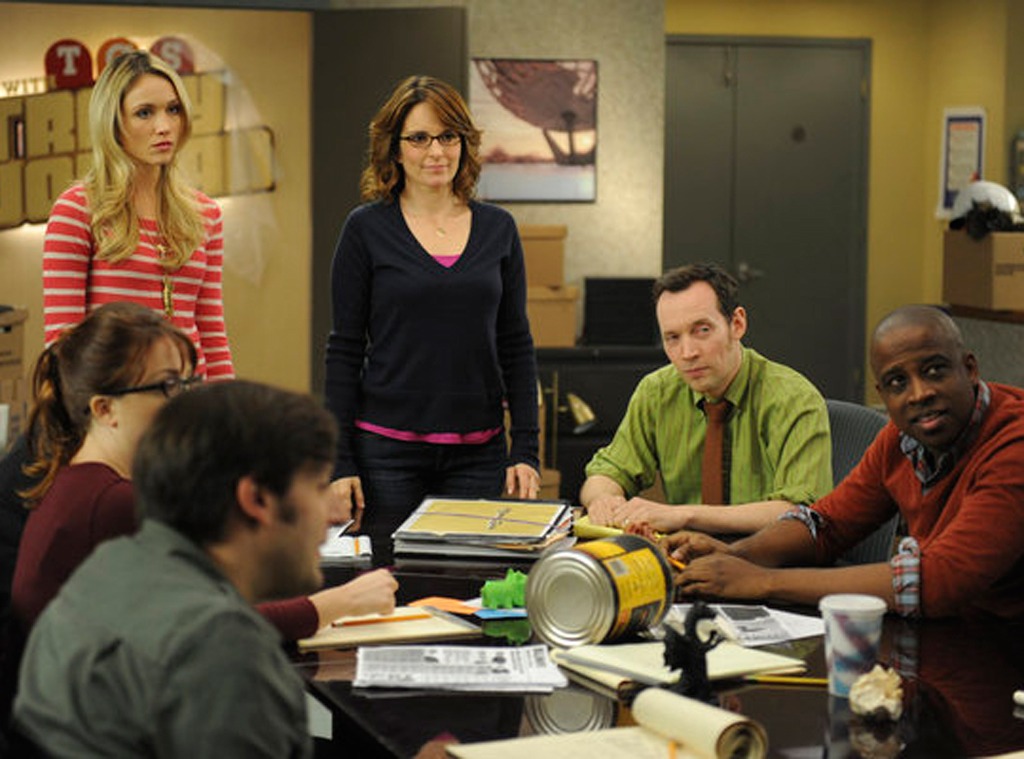 Ali Goldstein/NBC
It's the end of a TV era. Tonight, 30 Rock goes off the air after an hour-long series finale that'll surely be full of crazy surprises and awesome cameos (we've seen it, and both things are true). To celebrate (or mourn) the passing of Tina Fey's epic comedy series, we've come up with 10 of the most memorably 30 Rock-y episodes of the past seven seasons.
Please peruse our list, and then head on down to the comments to tell us which episodes of 30 Rock will live on in your heart of hearts forever. In no particular order:
1. "Rosemary's Baby": Forget that Carrie Fisher has a hilarious guest role as Liz Lemon's crazy childhood idol; the shining storyline in this episode is when a shrink comes to work with Tracy (Tracy Morgan) and Jack (Alec Baldwin) role-plays as various members of Tracy's family. 
2. "100": After TGS loses Tracy Jordan, terrible ratings bring down the hammer of cancellation. But more importantly, a gas leak in the building leads to top notch hallucinations experienced by everyone, our favorite of which is Jack seeing two versions of himself: past and present Jack. 
3. "Fireworks": Kenneth (Jack McBrayer) attempting to seduce Devon (played by the wonderful Will Arnett)? Classic television.
4. "Black Tie": This season-one episode was the point where 30 Rock stopped trying to figure out what it was, and just did whatever it wanted. And the result was pure comedy gold. Jenna (Jane Krakowski) tries her hand and winning the heart of Prince Gerhardt (Paul Reubens), who has many physical and mental disabilities caused by "centuries of inbreeding." Plus there's that whole Liz and Jack Pretty Woman situation...
5. "Ludachristmas": Welcome to 30 Rock, Liz's family! Anita Gillette, Buck Henry, and Andy Richter all guest star as her relatives who are visiting for the holidays. And all the writers of TGS want is a truly ludicrous office party, but in life, you can't always get what you want.
6. "Live From Studio 6H": It was not the first live show that 30 Rock put on, but our humble opinion is that this one was the better episode. We loved the homage to classic television shows, especially when Jack and Liz played "Lovebirds." Oh, and Jon Hamm came, too.
7. "Queen of Jordan": We picked this episode based on the sole fact that if there was actually a reality show starring Tracy Jordan's wife Angie (Sherri Shepherd), we'd totally watch it faithfully every week. 
8. "Tracy Does Conan": Tracy Jordan sober is unpredictable enough, but when he has a bad reaction to pills before his scheduled appearance on Late Night with Conan O'Brien, all hell really breaks loose. And by "hell," we mean "some of the best TV comedy ever." 
9. "Believe in the Stars": It's Oprah! After meeting on a plane ride from Chicago, Liz asks the queen of daytime to aid in her quest to settle a dispute between Jenna and Tracy over a pornographic video game. Only on 30 Rock...
10. "Apollo, Apollo":  Besides the fact that it celebrates Jack's 50th birthday, this episode will go down in television history for one simple phone number: 1-800-OKFACE.
(E! and NBC are both part of the NBCUniversal family.)