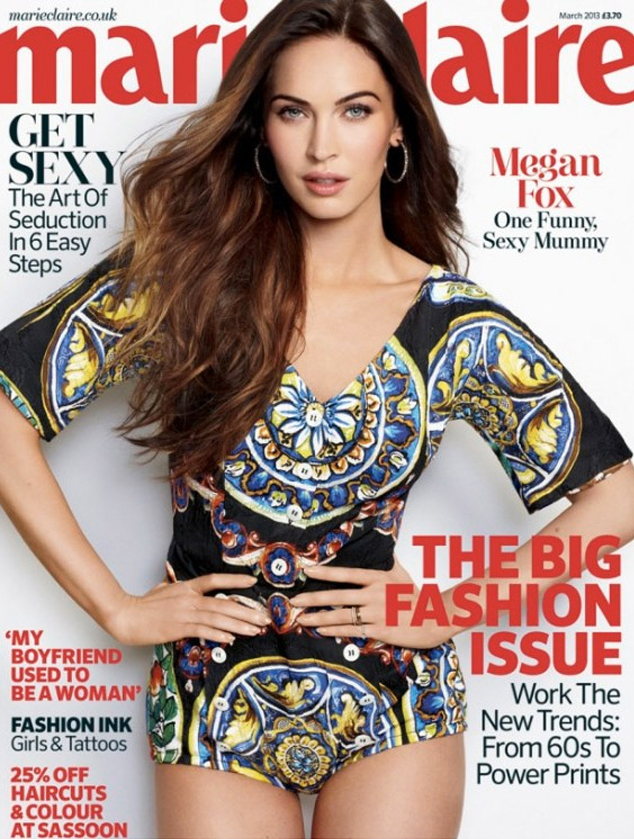 Courtesy: Marie Claire UK
Megan Fox has never been happier.
The This Is 40 actress and new mom loves spending time with her husband, Brian Austin Green, and their 4-month-old baby boy, Noah. In an interview with Marie Claire UK's March issue, Megan, 26, opens about how much motherhood has changed her.
"All I wanted to do my whole, whole life was have a baby and, now, I've finally done it," she says. "I just want to give Noah as much of myself as I can."
"It's very hard for me to do [professional] stuff, because I feel like this isn't my job anymore," she adds. "My job is to be with [Noah]."
But there are some drawbacks to having such an open heart. "I can't watch the news any more. Everything makes me cry," she says. "Because everyone is someone's child, every woman seems like someone's mother. I have so much more patience for people and women in general."
And while Megan says she's "never been validated by work or fame of Hollywood or any of that," she does feel pretty lucky to be with her husband. "I believe he's my soulmate," she gushes. "But that doesn't mean it doesn't take work, because we are very, very different."