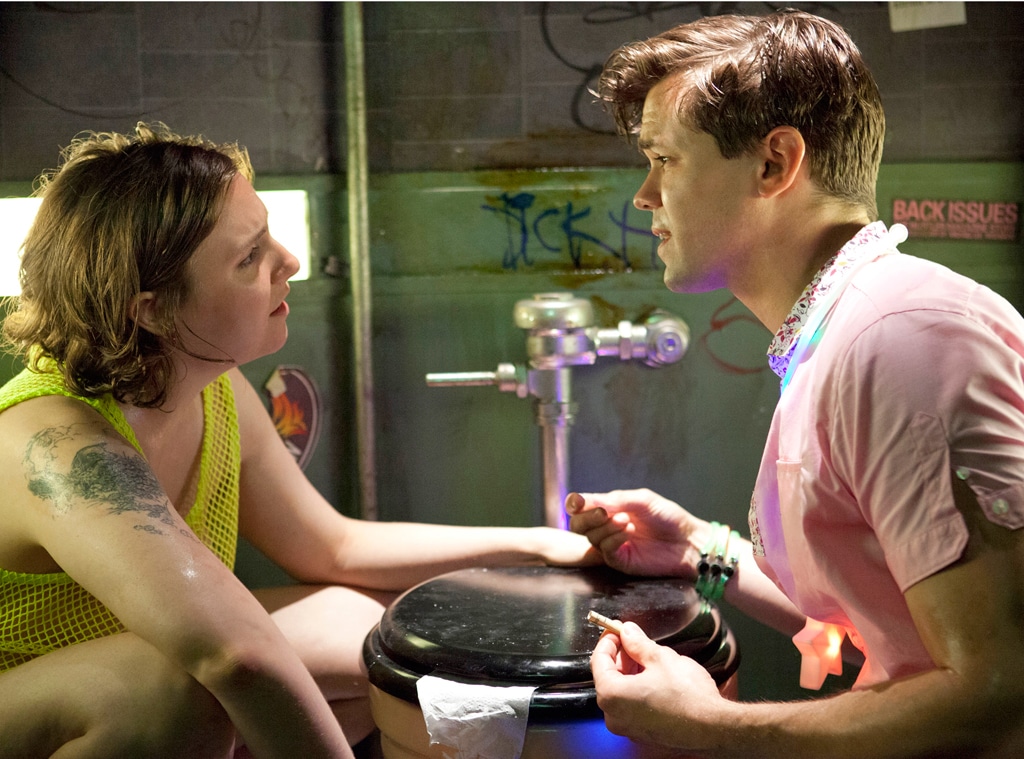 Jessica Miglio/HBO
The only thing better than watching HBO's hit series Girls? Talking about HBO's hit series Girls.
In our new weekly feature, three or four E! employees, all in their 20s, will discuss the happenings of Hannah (Lena Dunham), Marnie (Allison Williams), Jessa (Jemima Kirke) and Shoshanna (Zosia Mamet) and weigh in on just how realistic or completely insane their antics are. In "Bad Friend," Hannah and Elijah (Andrew Rannells) snorted lines and spit out the truth, Marnie finally bumped into artist Booth Jonathan (Jorma Taccone) again, and Jessa continued to be married offscreen.
Your twentysomethings discussing "Bad Friend" are:
John, 23: E! Loves guy, probably a Marnie, please like the Instagram pictures of my dog.
Jen, 28: Homepage editor and firm believer that Beyoncé sang live.
Tierney, 24: Watch With Kristin reporter, a Marnie-Hannah mix who aspires to be an Tami Taylor-Olivia Pope mix.
Before we get to the coke and nipples of it all, let's address something we didn't see a lot of last night: Jessa. In fact, there's been quite the lack of Jessa this season so far. Good thing or bad thing? Go.
John:  I have an unfair advantage, because I've seen the fourth episode and know more in terms of where this season takes Jessa, but from what we've seen so far I think that her absence has been a blessing, if only because it means we also get less Thomas-John. Chris O'Dowd is a genius and hilarious and we'll always have him to thank for his tirade against people wearing bowler hats in season one ("Weirdos Need Girlfriends Too"), but their marriage has to be the least realistic of the plotlines, right?
Jen: Can't say I've missed her. I mean, I think I saw enough of her here. Her story doesn't seem as real as the other girls and when she does pop up, I can't take her too school for school attitude. Also, why does she get to have three puppies? That's just not fair.
Tierney: She's always been the girl I relate to the least, but I would like to see more of her marriage to Thomas-John, just because I think O'Dowd is hilarious in the role. I could use a little bit more Shoshanna in my life, too, but the next episode is a pretty great outing for her.
Fans have been eagerly anticipating the hookup between Marnie and that little "smidge" of an artist Booth since he first appeared last season. Was their encounter everything you thought it'd be, or did you find it to be a bit of a letdown?
John: Well it made me laugh, though I'm not sure which camp that exactly puts me in. I was expecting Marnie to have a seizure in that art installation, but sex with Booth is probably a bigger nightmare than any actual nightmares I'll have (or maybe had, last night) from watching babies and maggots. Booth sometimes skews towards Thomas-John territory for me, though I have a feeling there are a lot of art douches like him in the real world. Which might be the biggest nightmare of all.
Jen: It definitely wasn't as hot as I thought it'd after their first encounter, but I wasn't letdown. It was weird, awkward, surprising and funny—everything I like about this show.
Tierney: Well, he did say he would scare her and I think I'd be pretty messed up after being forced to look at a doll that can be described as "sassy" and "sad." A bit of a letdown, but I'm kind of glad it was because I think it's more interesting. I find it ironic that Marnie found Adam totally off-putting, but overlooks Booth's weirdness because he's an "artist."  
Now this isn't asking anyone to admit if they've ever used an illegal substance before, but did you think the show accurately portrayed how one does act after they've used one?
John: Yes. Except the scene where Hannah and Elijah were paranoid in the subway stairs. That was silly. I felt like the end of the episode should have been a PSA though, with Lena Dunham speaking directly to the children of America to say that this was just dramatized events and if they're going to do coke, they shouldn't do it off a dirty toilet.
Jen: Yes.
Tierney: After I had a heart operation when I was 12, I was told by my doctor to never ever try anything because it could kill me. (It was one hell of an anti-drug PSA.) However, I'm told Elijah and Hannah's experience was pretty dead-on, especially with Elijah telling Hannah the truth about sleeping with Marnie.
The fight between Marnie and Hannah felt like a much lighter, less-serious version of their fight last season that lead Marnie to move out. What did you think of this fight and Marnie being voted the "bad friend"?
John: Really, they're both bad friends. And that's not exactly unrealistic for people who have been such tight friends for so long, but I do like the way the show has ping-ponged between which one is the worse of the two. In season one, Hannah definitely came off as more of the "wound," if you will. Marnie now looks like the worse of the two. I think it will just keep going back and forth. But I did like when Hannah told Marnie they could still be friends, as long as Marnie knew she was the bad friend. That seemed to ring true to human nature or at least to my human nature, in which case, I may be the bad friend. I'll have to ask around.
Jen: Way lighter. It seemed more like was one of those fights that happen when people get a little too messed up. Pretty sure Hannah storming in to Booth's apartment and yelling at her counts as being a bad friend. And this bad friend competition is a little tiresome, but I can't say I've never been in one.
Tierney: I still maintain that Hannah is and always will be the wound. She probably still owes Marnie rent money! And I was pretty annoyed when Hannah came down on Marnie about making "clean money." Girl, you just slept with your ex-junkie neighbor for the sake of your story.
Hannah kicked Elijah out of their apartment for sleeping with Marnie. Will you be sad to see him go?
John: No? Maybe? You don't know what you've got till it's gone? I like Andrew Rannells a lot more on Girls than on The New Normal. I do hope that they'll bring in a new gay character eventually though.
Jen: He was a nice change of pace, but I won't miss him. I prefer the watching the relationships between all the girls and he was just getting in the way. See you later, Elijah! Don't let the door hit you on the way out.
Tierney:  I will be sad to see Elijah go, just because I think Andrew Rannells is so freakin' good on the show, but I feel like he's been detracting from some of the other girls' storylines. But I think Hannah's issue of changing roommates faster than she changes shirts needs to be addressed.
For the sake of her story, Hannah hooks up with Laird, her ex-junkie neighbor-admirer, at the end of the episode. Thoughts?
John: Who's surprised? Why not? Four for you, Laird! You go, Laird! When does Patrick Wilson show up? But seriously, when does Patrick Wilson show up?
Jen:  That's so Hannah.
Tierney: "That's so Hannah" is totally the new "That's so Raven." But yes, it was rather predictable. You know what, good for Laird, her guardian angel. If anything, it'll make for some hilariously awkward hallway meetups in future episodes.
This episode had a lot of really great lines. Which one stands out to you the most?
John: Oh jeez. Marnie's "She feels sassy…" about the creepy porcelain sex doll sticks out in my mind. But probably my ultimate ultimate favorite was "Laird, if you're going to follow us anyway, just come. But we might do coke in front of you, so just, no more crying."  Laird!
Jen:  Hannah: "Ohmygod, you have a turtle." Laird: "Yeah. Yeah and I'll never not have it."
Tierney: I kind of loved Hannah saying "Thanks, I know!" when the guy complimented her dance skills. It was a very Hannah moment. Oh, and the whole exchange about jerky. And Extremely Loud and Incredibly Close. This episode was just one quotable machine, basically. Kudos to Dunham and Sarah Heyward, who cowrote the episode.
Icona Pop's "I Love It": One of the best music cues ever or one of the best music cues ever? Discuss.
John: I haven't tried it out in a club yet, but it makes for excellent running music. Try it.
Jen: Looooved it! But I still think my favorite is "Dancing on My Own." It's classic.
Tierney: Let's just say I would totally go to a shady party if brand consultants and iPad DJs Andrew and Andrew were in charge of the music.