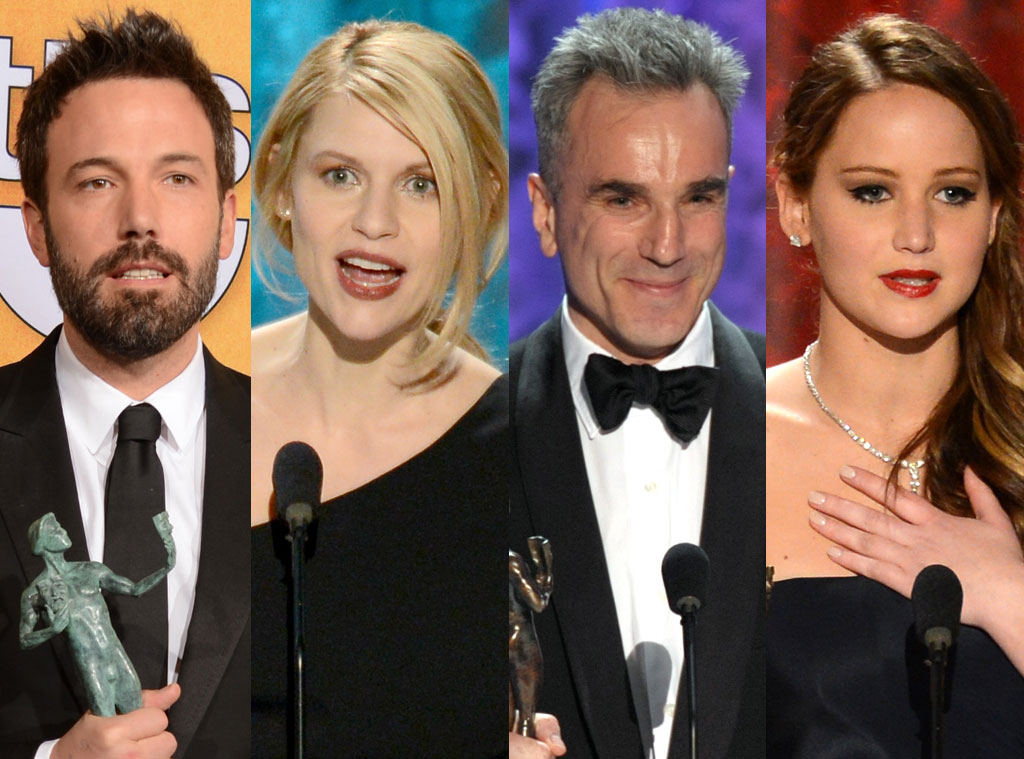 Mark Davis/WireImage, John Shearer/Invision/AP
With stars such as Jennifer Lawrence, Ben Affleck, Daniel Day-Lewis, Claire Danes, Bryan Cranston and Hugh Jackman, films like Argo, Lincoln, Silver Linings Playbook and TV series such as Homeland, Breaking Bad and Modern Family and 30 Rock—it can all mean just one thing: the 2013 SAG Awards are seriously glitzy and glitzily serious.
Or something.
Anyway, here's the best, the worst and the craziest stuff we saw:
Best Opener: Every year, the SAG awards open with actors explaining how they entered the profession, but even with good tales from Glee's Darren Criss, 30 Rock's Jane Krakowski and veteran Hal Holbrook, our favorite was Modern Family's Sofia Vergara. She recalled telling her disapproving father that since her "big boobs" made her look like a hooker, she would be going into acting.
Biggest Miss: Lincoln's gloriously bewigged supporting actor winner Tommy Lee Jones, he of the Golden Globes glower, missed picking up his trophy—and still finding a way to look grumpy doing it. Had he pulled that off as we hoped, it would have been some great acting.
Least Rocking Look: Justin Timberlake presented the supporting film actress award wearing a totally sexy suit-and-tie combo. That is, if he'd been our English professor.
Insert Skinny Joke Here: Unlike most awards shows, the SAG awards has no time-wasting filler. It's all meat—really lean, tanned, designer-dressed meat.
BIggest Mother of a Joke: Big winner Tina Fey praising her pal from the stage, "Amy [Poehler], I've known you since you were pregnant with Lena Dunham."
Hottest Actors In a Threesome: The cast of Modern Family, which took home its third SAG trophy in a row, people. That's something that doesn't happen every year, you know.
Best Acting: While the show paused as drama series winner Julianne Moore made her way up to the stage, fellow nominee Nicole Kidman remained composed (and beautiful!) while the camera stayed on her.
Most Gracious: During her speech, Julianne Moore thanked a baby, her costar from Game Change. Loved that.
Worst Attempt to Trick Dudes Into Seeing a Musical: Hugh Jackman and Anne Hathaway described the Les Miserables as Wolverine getting chased by Gladiator with some input by Catwoman…and well, frankly, they had us at Wolverine. See you nerds at the theatre!
Most Attractive While Sharing a Teleprompter: If presenters Rose Byrne and James Marsden had a baby, well…they'd probably be surprised since they were just standing there presenting an award together. But you can bet that handsome baby would get thanked by Julianne Moore, too.
Best Bit of Classic Television: The ever-adorable Dick Van Dyke thanked his "lord and savior" Carl Reiner and costar Mary Tyler Moore, before graciously telling the assembled actors that they'd raised the standard of acting and were fine, engaged activists. No one had the heart to tell the venerable performer that, having gotten his lifetime achievement award, he could have totally gone to town talking about his "privacy" if he'd wanted to.
(Almost) Surprise Win: If perennial award-winner Breaking Bad could ever be seen as an underdog, well, Bryan Cranston's win over Jon Hamm, Steve Buscemi, Damien Lewis and Jeff Daniels surprised some grizzled award-show watchers. (Yes, we meant us.)
Best Quips: Both top TV winners, Bryan Cranston and Claire Danes, cracked us up with sassy one-liners, he about being "well endowed" with the trophy and she about her Spanx undegarments. Yes, we like that kind of below-the-belt humor.
Jessica Chas…tain! The announcer seemed to doublecheck the actress' name as she walked out to introduce the In Memoriam segment. To her credit, the announcer eventually got it right.
Biggest Shocker: The soapy British drama Downton Abbey beat Homeland and Mad Men to win Best Drama, prompting actress Phyllis Logan to utter this bit of PBS-quality dirty talk, "Shut the French windows!" Can't wait to see them put that on a pledge-drive totebag.
Worst Performance: The flu, which thinned the ranks of attendees and left many in attendance feeling poorly. Hope all the afflicted are feeling better soon.
Most Surprising Speech: Jennifer Lawrence always delights with some funny talk, but her gracious words were pretty restrained, which was totally unexpected. OK, she did note that her statue was naked—and endured a faux wardrobe malfunction—which let us know that she hadn't been replaced by a super-polite cyborg.
Second Most Surprising Speech: Though we expected him to win, Daniel Day-Lewis drolly noted that "it was an actor that murdered Abraham Lincoln," and therefore the work of an actor to bring him back to life. Nicely played, sir.
Biggest Shocker: The end-of-the-night win for Argo, which completely and pleasantly surprised us, and made us glad for Ben Affleck, because he seems like a genuinely nice guy and he gave a rousing, enthused speech and were suckers for that kind of thing. Yay!