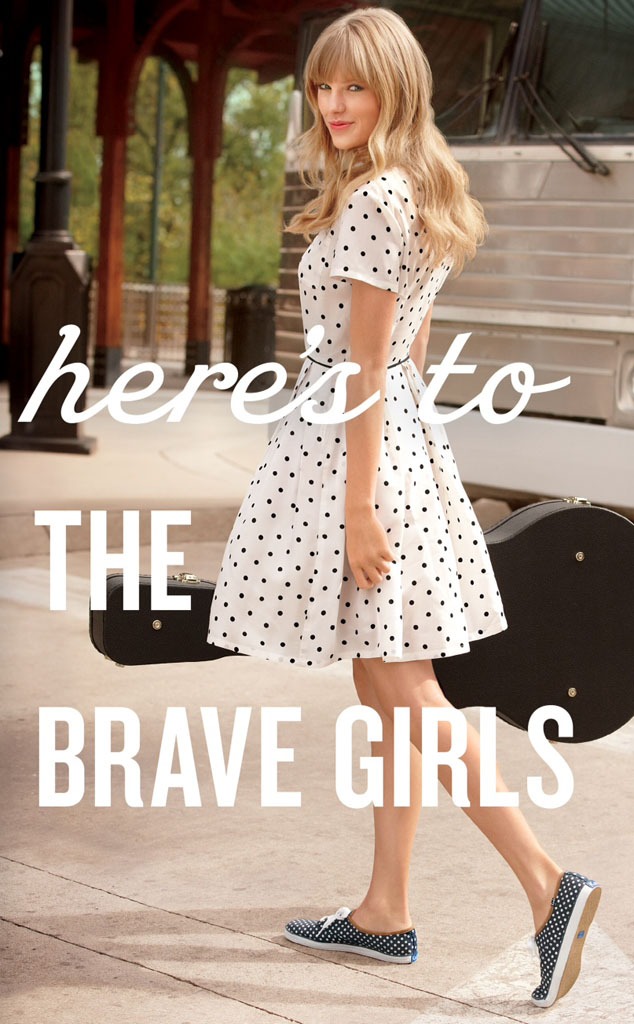 Keds
Taylor Swift's star power and Keds footwear are combining forces.
The wildly successful songbird is launching a new campaign with the popular shoe company, targeting a young female audience and encouraging girls to be "brave" and stay true to themselves.
Swift looks sweet as pie in the adorable prints rocking a polka-dot dress and matching navy Keds as she smiles at the camera, guitar in hand, with the words "here's to the brave girls" emblazoned across the ad. 
The campaign also features words of wisdom from the Grammy Award-winning artist, who is certainly no stranger to her own media criticism after years in the business and a slew of public breakups:
"If you're lucky enough to be different from everyone else, don't change to be the same," she encourages in one ad.
"Try things. Say hi already. Laugh a lot. Mess up. Apologize. Mess up again. Hug people. Take chances. Trust yourself," she inspires in another. "Be brave and you'll have the time of your life." 
There's also a website dedicated to the inspirational ad campaign that encourages young women to share their brave moments, complete with a video from Swift, who reveals her own bravest moment: "Moving to Nashville."
This isn't the first time Swift has teamed up with the famous footwear line—Keds launched a limited-edition red sneaker in honor of Taylor's hit album back in October.
Considering Taylor's known for her kind heart and brave outlook on life, we can't think of anyone better to star in the girl-power ads! 
What do you think of the new Keds campaign? Tell us your thoughts in the comments!