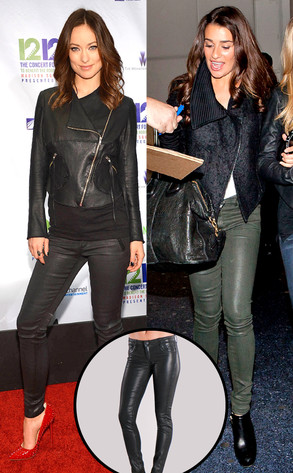 Dimitrios Kambouris/Getty Images; BAUER-GRIFFIN.COM; Courtesy: Bleulab
I love the look of my coated skinny jeans, but don't want to ruin them in the laundry. What's the best way to clean coated denim?
—Natasha
I have just the solution for you!
Like Lea Michele and Olivia Wilde, I'm also a fan of coated jeans this season, and wanted to ensure they stayed in tip-top shape over time. And while these trendy bottoms are super sexy and surprisingly wearable, remember they're a tad more special than your plain old blue jeans.
Tossing coated denim will inevitably ruin them—the look and feel will fade quickly, and your cute coated skinnies will start to look a lot more drab without proper maintenance.