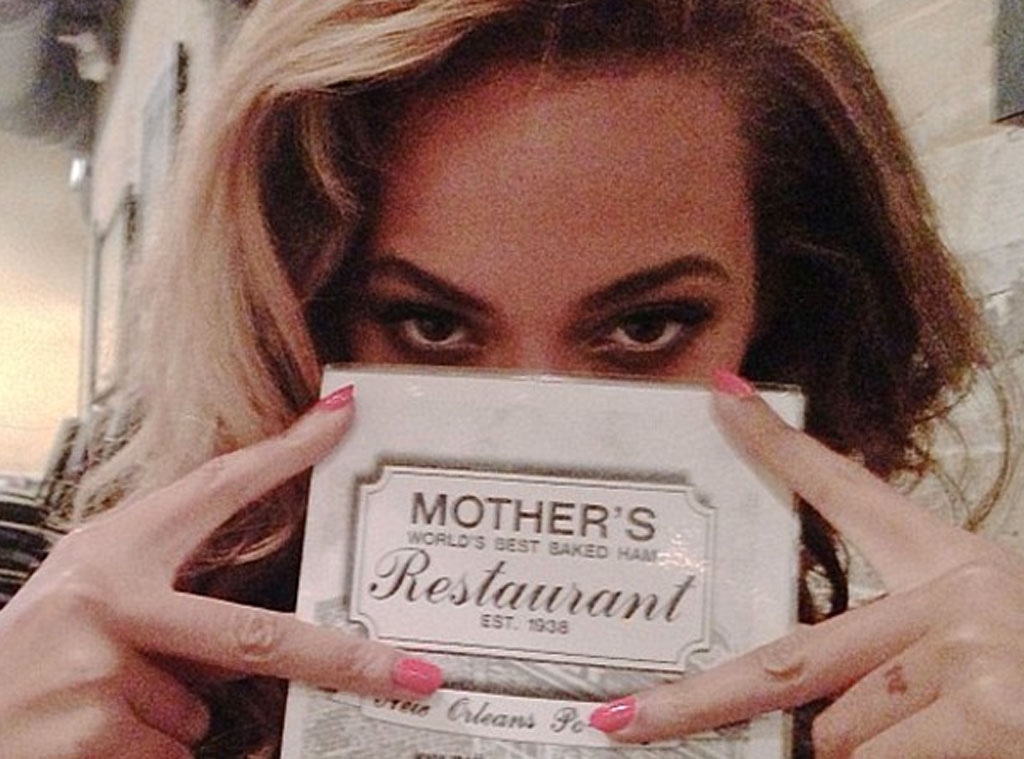 Instagram
Continuing to ignore the Inauguration Day lip-syncing controversy that's taken the media by storm, Beyoncé is clearly staying focused on one thing: her highly anticipated halftime performance at next month's Super Bowl down in the Big Easy.
The R&B songstress posted to her Instagram page the first photo of her current whereabouts since the scandal broke, showing her at New Orleans' Mother's Restaurant, which—by the look of the menu she's holding up—apparently has the world's best baked ham.
Yesterday, after it was revealed that Beyoncé lip-synced "The Star-Spangled Banner" to a prerecorded track—something hardly out of the ordinary for major events (see: Whitney Houston's famed Super Bowl rendition of the national anthem) but which nevertheless sparked outrage—B has remained mum on the matter except to post some pictures of her rehearsing for Monday's big performance.
On Tuesday, the director of the U.S. Marine Corps Band, Col. Michael J. Colburn, confirmed that Beyoncé used the prerecorded version because she had been busy getting ready for her highly anticipated appearance at Feb. 2's Super Bowl and didn't have time to rehearse the anthem properly with the band. He also said the cold weather was a factor.
In any case, a number of the 31-year-old superstar's fellow artists have come to her defense, among them LeAnn Rimes, Jennifer Lopez and, most notably, the Queen of Soul herself, Aretha Franklin, who sang at President Barack Obama's 2009 Inauguration.
Franklin told ABC News that when she heard Beyoncé used a prerecorded track while performing in chilly temperatures, she laughed, noting that "for most singers, that is just not good singing weather." She also praised her protégé, saying, "She did a beautiful job with the prerecord…Next time I'll probably do the same."
Of course, despite the backlash, Beyoncé still sang the song—as fan Piers Morgan was quick to note—even if it was in the studio.
So far, no word whether she'll perform her halftime Super Bowl set live.