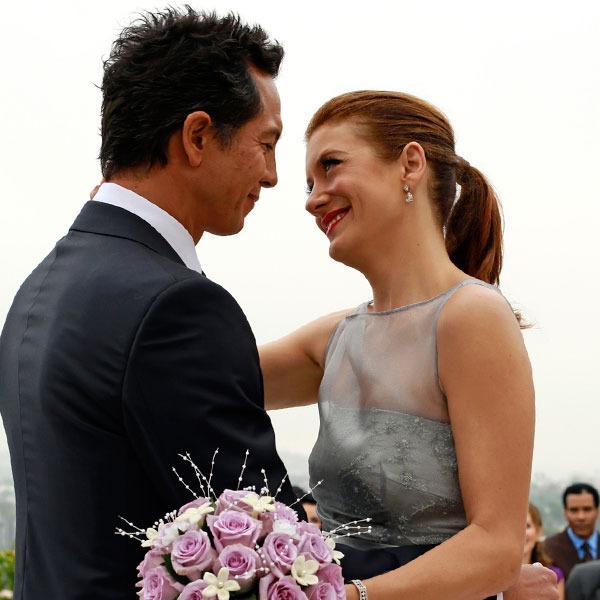 Ron Tom/ABC
Spoiler Alert! The following article contains spoilers on a lot of Tuesday night's shows, so click away if you've yet to watch and don't want to know what went down! Seriously, if you complain about spoilers in the comments you are the opposite of Batman.
Welcome to the Watercooler, our new daily column which aims to keep you up to date on TV's biggest moments, so you don't feel like a total outcast or loser at work when everyone's talking about the most recent death on The Walking Dead or Scandal's latest jaw-dropping twist. So go on, be social for a night and go out to dinner or go to bed early for once as we're here to do all the heavy-watching for you, free of charge.
Tonight, we're giving you the CliffsNotes on the series finale of Shonda Rhimes' Private Practice, the season finale of NBC's Parenthood (More like Cryhood. Zing!) and handing out scoop on Pretty Little Liars' big reveal.
Parenthood Finale Tissue Count:  Eh, we've lost count at this point, such is the power of Parenthood. Can someone please supply us with the  Braverman's address so we can send  them the bill for all the freakin' mascara we've gone through this season? (Oh, but it's mascara well-wasted, no?) The season-four finale continued the show's streak of tear-inducing episodes.
Kristina (Monica Potter, who has just dominated this season), learned she's cancer-free and Amber (Mae Whitman) and Ryan (Matt Lauria, may he stay on the show forever) got back together. Happy tears all around! Alas, Sarah (Lauren Graham) chose Hank (Ray Romano) over Mark (Jason Ritter) because she makes terrible life choices and ended the hour single again after Hank told her he was moving to Minnesota (and hello, no one willingly moves to Minnesota from California). Good. Sorry, but we don't think Sarah deserves Mark. Tough love, you know? All in all, a satisfying and darn-good season of television. This Jason Katims guy just might have a career ahead of him!
Private Practice Says Goodbye: Hope you brought two gifts to the ABC medical drama's final outing as two weddings went down. Addison (Kate Walsh) and Jake (Benjamin Bratt) tied the knot, and so did Sam (Taye Diggs) and Naomi (Audra McDonald) for the second time!

Pretty Little Liars' Big ReveAl: Spencer (Troian Bellisario) is packing her bags and on the next train to Crazytown after finally learning her boyfriend Toby (Keegan Allen) is part of the "A" Team. The scene was ridiculously heartbreaking, thanks in large part to Bellisario's performance, but at least Toby was on the receiving end of one painful smack across the face.
"He's taken them down on a real visceral level," executive producer Oliver Goldstick says, adding that Toby will struggle with the feelings he's developed for Spencer. "It's really painful for him. Oh, it's painful." Marlene King, the show's creator, teases what's ahead for Spencer, telling us "For Spencer, it's just devastating. She sort of goes through the four stages of grief and the first is denial. She keeps it a secret from the girls; she has a huge secret that puts distance between her and the girls. She separates herself because she can't stand lying to them."
Line of The Night: This honor goes to The Mindy Project for its awesome Harry Potter reference: "The key, Mindy, is to pick a man you're attracted to, but don't respect and cannot see a future with," Jeremy (Ed Weeks) tells Mindy (Mindy Kaling). Her response? "Draco Malfoy."
Wednesday Night Recommendations: We're excited (and terrified) to watch how Ryan Murphy & Co. wrap things up on this season of American Horror Story: Asylum, and very curious to see how American Idol handles the much-hyped Mariah Carey and Nicki Minaj battle.
Odds and Ends: The pilot based on Lauren Oliver's ridiculously good novel Delirium (the first in a trilogy), which is being written by Prison Break's Karyn Usher, has been picked up by Fox. Huzzah! The series is set in the near future where love is illegal and all citizens must undergo a procedure that takes away their ability to love (or hate) for that matter. The novel's heroine Lena is eagerly awaiting her procedure, but starts to question everything when she falls in love. Here's hoping we don't have another Selection (which is currently being reworked at the CW) on our hands because the source material is ace. Seriously good reads, yo.