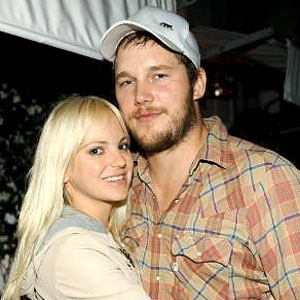 courtesy of Albert Michael/Startracksphoto.com
Chris Pratt and Anna Faris' new baby Jack is one lucky kid. (Is it weird that we wish they were our parents?)
Pratt, 33, visited Ellen yesterday to talk about his son, getting in shape for Zero Dark Thirty and what he does to drive his wife crazy…and not in the good way.
"It's been really amazing," the Parks and Recreation star said about fatherhood. "[With a baby], everything is a first. Everything is a brand-new experience. The first time they realize that the sound they're hearing is the thing that they're seeing is an experience for them, and I'm reliving all the firsts all over again: the first time he recognizes the first laugh or me, or the first taste of something sweet."
And do you remember that shot of Pratt showing off his Seal Team Six body wearing nothing but his underwear? Turns out, that was Ellen underwear! The proof is in the zoomed-in photo that Ellen Degeneres so kindly gave viewers.
But if that photo isn't your cup of tea, then the pics and videos of Pratt and Farris' son might do the trick. Check out his interview below to see their adorable baby!
Parks and Rec airs Thursday nights on NBC.