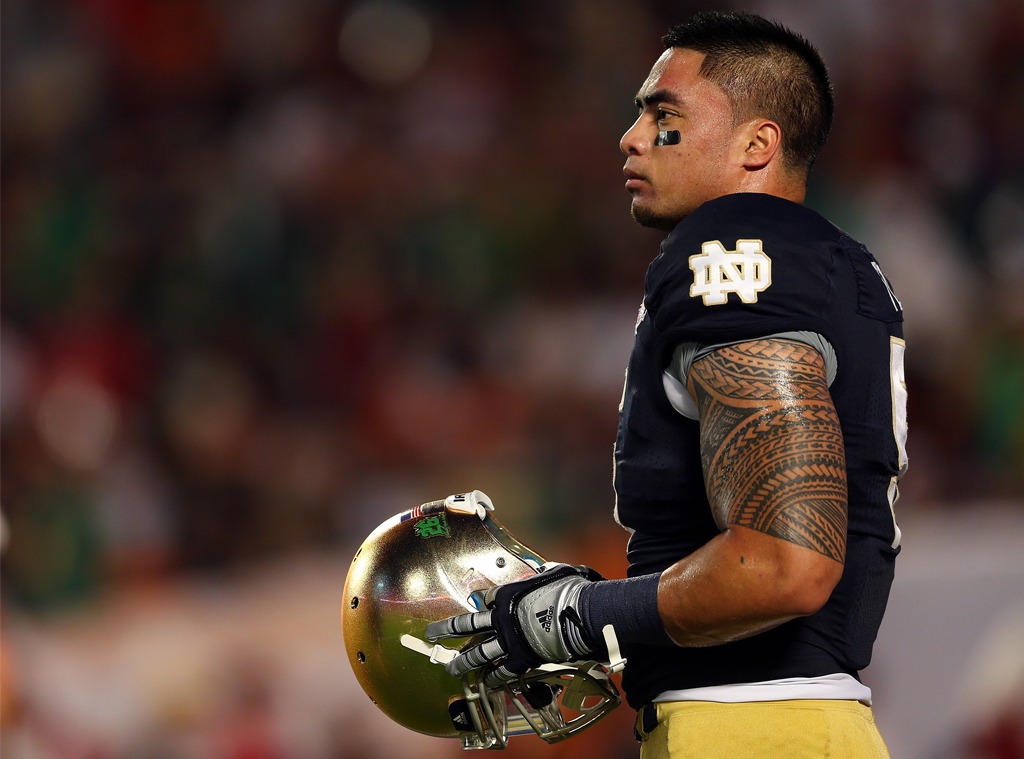 Mike Ehrmann/Getty Images
Is Manti Te'o's career essentially over?
—A.L.K. Sweats, via Twitter
If by "career" you mean tens of millions of dollars in endorsements, and a shiny new spot as a first-round draft pick, and a chain of fried catfish restaurants with his name on them, then, essentially, yes. Te'o may kiss Manti's Big Poi diners goodbye, sports managers tell me.
Unless...
For those of you unfamiliar with the saga of the Notre Dame linebacker: Manti Te'o made big news recently with a weepy tale about the deaths of his grandmother and his girlfriend just before a Big Game.
He went on to perform spectacularly during said Big Game (does it really matter which one?), and win a No. 2 Heisman ranking before we all learned the truth: The grandmother really was dead, but the girlfriend never existed. (Unless the grandmother actually was the girlfriend—an option I would rather not think about.)
Just how much Te'o had to do with the lie is still fuzzy at this hour, though it's becoming increasingly clear that he told the tale about the fictitious Lennay Kekua at least once before Deadspin exposed the whole sordid tale a few days ago.
The athlete put out a statement saying he was essentially catfished, but doubt is still rampant, and he has yet to fully explain everything in a press conference or interview.
So what exactly has this jape cost him? Almost everything, sports managers tell me.
"I don't think he would even have been No. 2 in the Heisman rankings without that story about his girlfriend and his grandmother dying," says Evan Morgenstein of PMG Sports. Such prestige often leads to a spot in the NFL's first-round draft picks. But because of this PR debacle, Morgenstein tells me, "as this unfolds, he keeps dropping. Now? Low second round.
"But if the PR keeps going south? He could possibly go undrafted."
Image, kids: It's just that important in the NFL. Who knew?
As for how much money Te'o has likely lost, I have that info, too: Likely, we're looking at  eight sweet, sweet figures of income, mostly in endorsements.
Versus, you know, not that.
The only way that trajectory could turn around? Well, that depends on what Te'o knew and when he knew it, Morgenstein tells me.
"If I was repping before, and then this all came out, and it was proven that he lied I would have dropped him as a client," he begins. "But if I were just his PR person, and it turns out he was hoaxed and then maybe lied about it afterward because he was embarrassed, I would tell him to come out and tell the truth. I'd tell him, 'Yeah, people will make fun of you, but eventually they'll go away'."