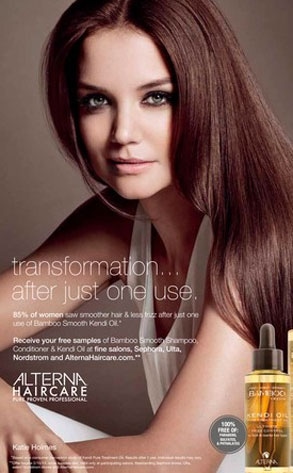 Alternia Haircare
Katie Holmes always has great hair.
So it makes sense that Tom Cruise's ex is going to serve as the spokeswoman and co-owner of hair company Alterna. Per WWD, the 34-year-old Dawson's Creek alum will be featured in Alterna's campaigns beginning in February.
"I love that Alterna uses natural and organic ingredients and stays away from harsh chemicals like sulfates and parabens," Holmes said Thursday. "It's good for my hair and good for the earth, so I feel good using it."
The brunette beauty also says Alterna products have "transformed" her hair.
"When it comes to hair, great style should be sustainable," she said. "Using the right products means you don't have to work as hard to look and feel your best."
This, of course, isn't the former Mrs. Cruise's first foray into the world of beauty. In September, she became the first celebrity face for Bobbi Brown Cosmetics.
You go, girl!