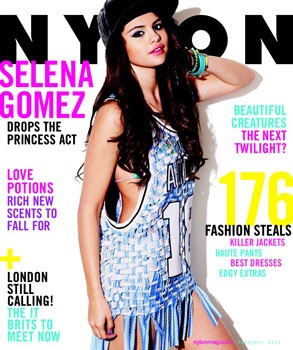 NYLON
Selena Gomez is soaring as a newly single starlet.
In addition to starring in the hot new flick Springbreakers, the actress stuns on the cover of Nylon magazine's February issue, looking laid-back, gorgeous and hipster-cool, and discusses her relationship with now ex-BF Justin Bieber and her famous friendship with bestie Taylor Swift.
Although Justin and Selena have officially called it quits (for real) after endless attempts at repairing their relationship, the actress seemed very "on" with her former beau at the time of her interview: 
"I'm having fun," she coyly admits when quizzed about her relationship status, before confessing her frustration with the countless false reports:
"It blows my mind that somebody wakes up every morning and goes to their little office and meets with people to just make stuff up," she says of the endless erroneous press coverage.
Still, the young star has a good head on her shoulders, refraining from reading the blogs "unless it's really bad and I need to know," but admits the ups and downs of love are something everyone can relate to, even though her romances play out in the spotlight: 
"At the end of the day, love is such a normal thing, and everyone deals with it. Just because it's a different lifestyle doesn't change the meaning of what I've been raised on, which is fairy tales."
One gal-pal who can relate? BFF Taylor Swift, who Selena counts as one of her closest friends, and the starlet reveals that the songbird is the kind of girl she can rely on and confide in:
"We have both experienced the same things at the same time," she says, explaining why it was so easy for the famous friends to connect. 
But as much as we'd love to see a Taylor-Selena (Saylor? Tomez?!) collaboration, the 20-year-old insists there's no business talk when she and T.Swift get together:
"But we've never once talked about our industry. She just became the person I'd go to for an issue with my family or boyfriend. It's so hard to trust girls, so I'm lucky to have her."
Well, considering the BFFs are both dealing with public breakups, we're sure the feeling's mutual.
Saylor forever!