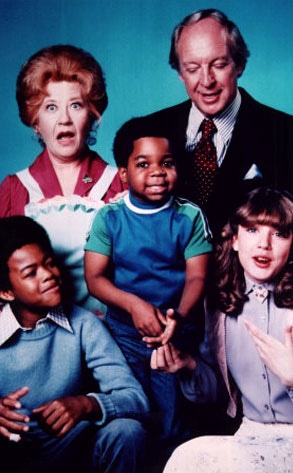 NBC
Conrad Bain, who died Monday at age 89, was the "glue" of Diff'rent Strokes, according to his former costar Todd Bridges.
But was Diff'rent Strokes a show that ever really had it together?
In its day, the Gary Coleman-led show was a critically unloved broadcast-network sitcom that took the "broad" part of its definition seriously—there was nothing subtle about Drummond humor.
After its run, it became the symbol for all that could go wrong with child stardom—the excesses, the arrests, the failed comebacks, the too-soon deaths that, in the case of Dana Plato and her son Tyler Lambert, bled into a second generation.
Where's the glue there? Where's any sign of a grounding or centering force?
In the small moments.
Like many an off-screen family, the on-screen Diff'rent Strokes clan came up the biggest in the smallest moments.
A breakfast-table scene in an episode, "Mother's Last Visit," from early in the show's first season, is a good example. For a few minutes, Bain, Bridges, Plato and Coleman are all messy-haired and bleary-eyed--in other words, they're like any other family convening and quibbling over pancakes.There's no inkling (as their rarely is) of what lay ahead. There's no gratuitous cheek-pinching for the health-challenged Coleman to endure. There's no trace of tension over the fact that Bain is having his first starring role stolen out from under him by a pack of children. There are just four actors (five, if you count Charlotte Raye's Mrs. Garrett) enjoying a moment, the poignant before to the terrible after.
And Bridges is right: The steady Bain is the glue of that.
Unfortunately, even the best glue can only do so much.