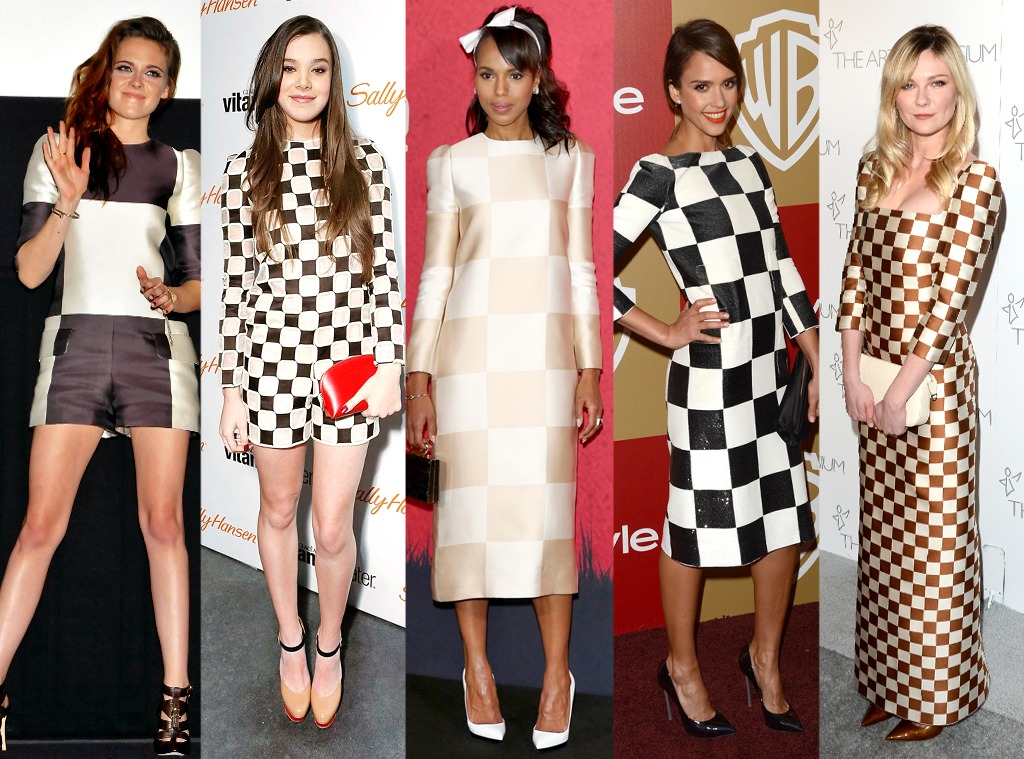 Jason Merritt, Andreas Rentz, Alexandra Wyman/Getty Images; FUTURE IMAGE/startraksphoto.com
Celebs are going crazy over the chic checkerboard pattern that dominated Louis Vuitton's spring 2013 collection.
And we can't say we blame them, since the cheeky checks embrace two of spring's hottest trends: bold black-and-white combos and mod-inspired looks.
Kristen Stewart was the first star to hop on the hot pattern when she hit a Tokyo photo call for Breaking Dawn Part 2 in a youthful romper just weeks after it debuted on Parisian runways. Not long after that, Hailee Steinfeld donned a similarly playful romper that was the perfect age-appropriate choice for her stylin' Sweet 16.
Most recently, Jessica Alba stood out on the red carpet of In Style and Warner Bros. Golden Globe party in a gorgeously graphic black-and-white sequined sheath dress from the French fashion house. But stars also love Louis Vuitton checkerboard patterns in other shades, including the muted white-and-tan print Kerry Washington sported for her very mod moment on the red carpet for the Django Unchained premiere in Berlin. And then there's Kirsten Dunst, who went with head-to-toe checks in a white-and-brown pairing at the 2013 Art of Elysium Heaven Gala.
Whether black or brown, there are certainly no gray areas about the checkerboard print's popularity among celebs. And given how well it photographs on the red carpet, we wouldn't be surprised if we saw a few more stars step out in Louis Vuitton's memorable mod collection.
What do you think of the checkerboard pattern? Is it dazzling or dizzying?