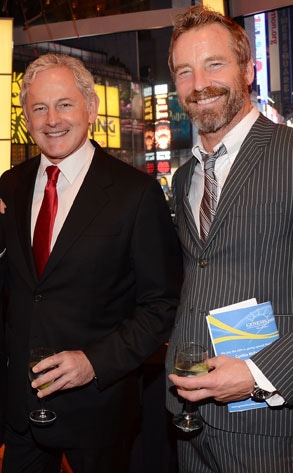 Jason Kempin/Getty Images for The American Fertility Association
First Jodie Foster, then Victor Garber.
On the heels of the actress' cryptic Golden Globes coming-out speech, Argo actor Victor Garber has also confirmed that he's a gay man and has been quietly living with his longtime partner, artist Rainer Andreesen, in New York, E! News confirms. 
Garber first spoke of his relationship with Rainer to blogger Greg Hernandez, who pressed the Titanic actor to publicly confirm that he's gay after learning via Wikipedia that the 63-year-old star is partnered with a man. 
Hernandez detailed the interaction—which took place at the TV Critics Association Press Tour in Pasadena, Calif.—on his blog, describing how he flat-out asked the former Alias star if his partnership with Rainer had ever been made public, and noted that Garber seemed surprised by the question:
"I don't really talk about it but everybody knows," Garber told Hernandez before adding, "He's going to be out here with me for the SAG Awards."
The handsome, happy couple have been together for 14 years.
Garber is the latest in a line of celebrities who have all come out in subtle yet straightforward ways. Matt Bomer confirmed he's gay by acknowledging his longtime partner in a speech, while Big Bang Theory star Jim Parsons and GMA weatherman Sam Champion both made brief mentions of their respective partners in separate New York Times interviews. 
—Additional reporting by Holly Passalaqua