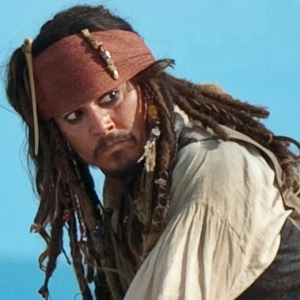 Peter Mountain/Disney Enterprises
Ahoy, me hearties! You haven't seen the last of Captain Jack Sparrow yet.
Batten down the hatches, moviegoers, because Johnny Depp is reprising his iconic role as the mischievous buccaneer in Pirates of the Caribbean 5, which Disney announced it's targeting for a July 10, 2015, release.
The Mouse House and producer Jerry Bruckheimer have hired veteran scribe Jeff Nathanson (Catch Me If You Can, Tower Heist) to pen the screenplay.
No word what the latest tale will be about. But previous sequels have revolved around Aztec Gold (Pirates of the Caribbean: The Curse of the Black Pearl), the villainous Davy Jones and the mythical Kraken (Pirates of the Caribbean: Dead Man's Chest), the Flying Dutchman and Davy Jones' Locker (Pirates of the Caribbean: At World's End) and the fabled Fountain of Youth (Pirates of the Caribbean: On Stranger Tides).
All told, the four Pirates of the Caribbean flicks have grossed a massive $3.7 billion in booty at the worldwide box office—not bad for a bunch of scallywags.
As Depp is still working on The Lone Ranger for Disney and the Pirates script has yet to be delivered, filming on the fifth installment is not expected to start rolling until 2014.
Pirates 5 will join the highly anticipated new Star Wars film as major tentpoles for the studio in the summer of '15.
In related news, Disney announced some updated release dates for some of its other high-profile movies. Among them is a live-action version of Sleeping Beauty, Maleficent starring Angelina Jolie, which has moved from March 2014 to July 2, 2014.
The Muppets 2 will now unspool on March 21, 2014, followed by Captain America: The Winter Soldier on April 4, while Guardians of the Galaxy is slated to hit theaters several months later on Aug. 1 followed by director Brad Bird's eagerly awaited sci-fi epic, 1952, headlining George Clooney, which is set to open on Dec. 19, 2014.