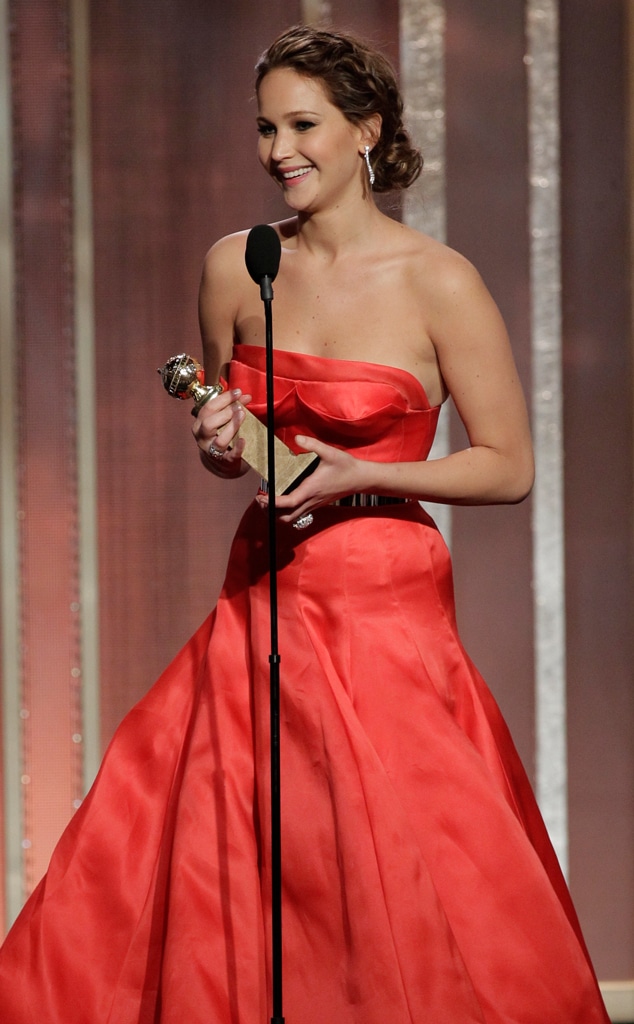 Paul Drinkwater/NBC
Jennifer Lawrence is not a hater (so calm down already, Lindsay Lohan. Just calm down!) She just likes making references to movies that aren't, I don't know, Sophie's Choice.
Last night, when the-greatest-thing-happen-to-cinema-since-Meryl Streep (aka Ms. Lawrence) took to the stage to accept her Best Actress Golden Globe, she started her speech off by quipping, "Oh, what does it say? 'I Beat Meryl!'" (For context, Meryl was nominated in the same category for Hope Springs.)
But it wasn't so much a jab as it was a (hilariously appropriate) movie quote: From The First Wives' Club. Bette Midler's character picks up an Oscar trophy (won by Goldie Hawn's character in the movie) and recites that exact same line. Watch the scene for yourself, you know, if you're still bedazzling your Team Meryl T-shirt and looking for your pitchfork.
This marks the second time now that the Silver Linings Playbook actress has dropped a movie reference in an acceptance speech this awards season. Which officially makes it a trend.
"I wish this was like Mean Girls and I could just break this up and throw it at all of you, because you're all responsible," she gushed at the People's Choice Awards, recalling a scene where Cady Heron (that's you, LiLo!!!) shared pieces of her Spring Fling crown.
(Four for you, Jen Law! You go, Jen Law!)
All of this is to say two things: 1) Jennifer Lawrence is perfect and always will be perfect, so if you don't have anything nice to say, keep her name out of your mouth. And 2) we can't wait to see what allusion she slips into her Oscar speech. We're pretty sure The Parent Trap (and any other Lohan classics) are out of the running, though.