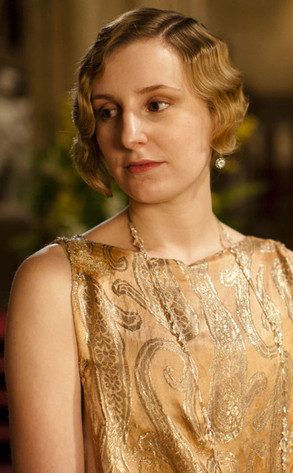 PBS
It's wedding time again! If you did not get enough champagne and wedding cake last week on Downton Abbey, we get to relive the magic of holy matrimony all over again. The perpetual middle child, Lady Edith (Laura Carmichael), finally gets to have her big day...or does she?
WHAT WE LEARNED
Joyous Then Jilted: Sure Edith hasn't been the best sister—remember she wrote the letter exposing Lady Mary's (Michelle Dockery) bedroom exploits—but we still don't think she deserved to be jilted at the alter in the most dramatic of ways. We should have seen the signs. Sir Anthony (Robert Bathurst) looked positively green by the time the wedding started. And then he bolted. But not before he gave her an "I'm doing this to be noble" speech. Well, it seems like the search for love is back on and Granny (Maggie Smith) couldn't have planned it better herself.
Deus Ex Machina: Some guys have all the luck. While we are still waiting for our first inheritance, Matthew (Dan Stevens) is busy rejecting his second. Riddled with guilt—always the martyr—he refuses to accept the money because Reggie didn't know the truth about his breaking Lavinia's heart. But lo and behold, Lavinia wrote to her papa on her deathbed. And all is right with the world. Praise Jeebus, Downton is saved and no one has to go live in that wretchedly tiny mansion up North. At least they got a nice picnic out of it.