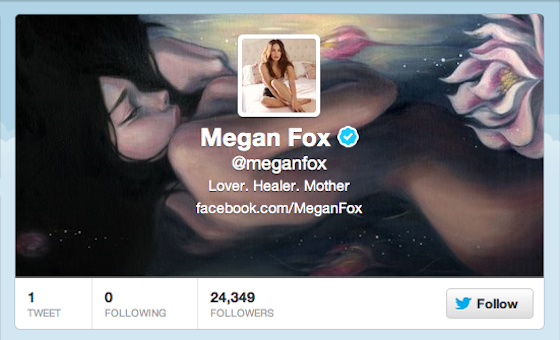 Twitter
Twitter isn't for everyone. And apparently, Megan Fox has put herself in that category.
After joining the social media site Jan. 3 and sending out a mere 13 tweets (and one retweet!), the first time mom has officially quit posting on her microblogging page.
Well, that was fast. 
Brian Austin Green's other half announced her breakup with Twitter on Facebook (because it only it only makes sense to announce your exit from social media on a different account, right?!), letting her fans know she simply couldn't adjust to the public forum.
"Some of you may, or may not have noticed by now that my Twitter account has been shut down…," the Transformers star wrote. "I thought that 2013 might be the year I finally blossomed into a social networking butterfly…but as it turns out I still hate it."
Our favorite Megan Fox tweet? This little gem from January 4: 
"Is it cool or embarrassing to own a life size R2D2? It's cool right?...Right?!," the sexy starlet posted along with an Instagram snapshot. 
But rest assured, Fox fans, because Megan isn't leaving the social media world for good:
"Love you guys but I will just never be that girl. Facebook is as much as I can handle. #I'mSorry," she wrote. 
#SoAreWe. We'll miss ya, Megan!